Caribbean Bachelor and Bachelorette Groups
Caribbean Bachelor and Bachelorette Groups
The Caribbean Islands are a unique location for bachelor and bachelorette group vacations, as they're filled with jaw-dropping beaches, bays, rainforests, and superb hotels and resorts. TravelZap provides clients with the most complete and cost-effective bachelor and bachelorette group vacations to the Caribbean through our excellent relationships, certified travel experts, and well-rounded packages.
The Caribbean Islands present a number of different cultures, foods, and adventures, while each island ensures a remarkable experience among lovely people and breathtaking natural scenery for bachelor and bachelorette group vacations. Aruba is well known for its stunning wind-formed deserts as well as the best shipwreck diving in the Caribbean. The Bahamas are noted to provide the embodiment of island culture and relaxation, while Nassau also offers a lively city environment. Barbados is known as 'the land of the flying fish', a famous traditional dish hailed around the Caribbean.
Costa Rica showcases over 800 miles of unbelievable coastline, made for explorers at heart. Puerto Rico features dense rainforests such as El Yunque in addition to numerous historical sites like Spanish forts in Old San Juan. Saint Lucia is unique for its green mountains that include the infamous St. Lucia Volcano. St. Martin has a nightlife that is refreshing and hip as well and a French-Indian inspired local cuisine. St. Thomas showcases an unreal view of the Caribbean from the 99 Steps of Charlotte Amalie and miles of pristine white sands.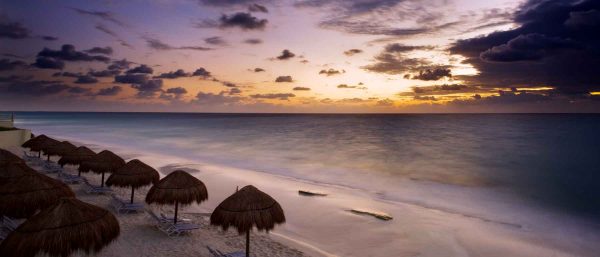 Caribbean Bachelor and Bachelorette Resorts
Breezes Bahamas

With a prime location on Nassau's famous Cable Beach and numerous onsite activities, Breezes Bahamas is the perfect location for a youthful, family-friendly group vacation. Between terrific accommodations, indulgent cuisines, and the breathtaking natural surroundings in Nassau, Breezes Bahamas will blow you and your travel group away.

Secrets St. Martin

The Secrets St. Martin, opening in early 2020, will feature modern architecture blended with the natural beauty of the lush tropical surroundings. This lovely resort will feature the largest infinity pool in the Western Caribbean, as well as activities like cooking and dance classes, scuba diving, yoga, and much more. With great dining options and top-shelf spirits, this tropical oasis is perfect for group trips, large or small.

Resort Rating:

Price range:

Intermediate

Brand:

AM Resorts

RIU Palace Aruba

Minutes away from shopping, dining, and a bustling nightlife, the RIU Palace Aruba is perfect for group trips focused on fun and excitement. With three pools, a variety of dining options, and daily entertainment for both kids and adults, the RIU Palace Aruba truly is paradise. This resort provides all the necessary elements for an exceptional group trip, with a variety of activities in a charming setting.

Royalton St. Lucia

The brand new Royalton St. Lucia, features rooms with a modern and views of the magnificent St. Lucia coastline. Located in a private cove, the resort is surrounded by lush vegetation and just a walk away from the blue waters of the Caribbean. With one of the largest spas on the island, the Royalton St. Lucia is equipped to provide and pamper. This resort is great for group travel as each guest is given the great service the Royalton chain has come to be known for.