RIU Hotels and Resorts
RIU All-Inclusive Hotels and Resorts
RIU Hotels and Resorts is a Spanish-owned collection of over 100 properties in 19 countries that provide premier accommodations, amenities, food, and services. Their establishments offer unique architectural designs that blend with the local styles and culture. RIU Hotels and Resorts can cater to travel groups of all sizes and with members of all ages by their extensive list of properties as well as the number of amenities and services available at them.
Each RIU property in Mexico and the Caribbean exudes its own identity and appreciation of its location while maintaining the highest level of hospitality there is. Unique experiences are endless with RIU, as each resort has a kitchen full of experienced chefs, professional staff members dedicated to your relaxation and enjoyment, and state-of-the-art facilities available for you and your group to spend your time as you please. RIU Hotels are terrific for families, with many resorts having activities clubs and excursions, but also appeal to businesses and conferences, with appropriate facilities available for use.
There is a spectacular group vacation for all when booking with RIU. Whether you are looking to bring together relatives, celebrate with a bachelor or bachelorette party, or organize a conference for your business, RIU Hotels and Resorts will accompany you with everything you need to both relax and enjoy the lovely culture of a Caribbean destination.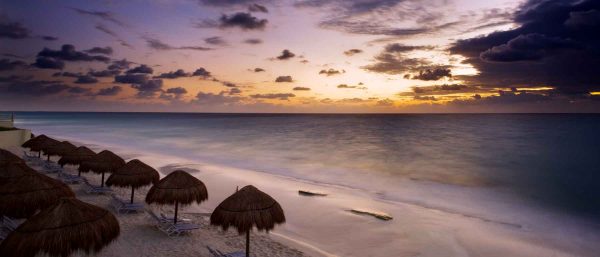 RIU Hotels and Resorts resorts
Situated just north of Nuevo Vallarta and offering some of the best group vacation experience, RIU Vallarta is the exemplary Mexican Pacific all-inclusive hotel. It sits just above a beautiful white sand beach and offers delectable cuisines of numerous styles, around the clock entertainment, in addition to the highest level of amenities and services that RIU Hotels are known for.

Accommodations at RIU Vallarta are divided into 8 categories ranging from the entry-level Double Room to the Suite Ocean View for adults only.

Astoria Lobby Bar | La Plaza Pavilion Bar | Mezcal Swim-up Bar | Sports Bar | Don Rafael | La Boheme Lounge Bar | Flamingo | Nirvana | Sir George A La Carte Restaurant

RIU Vallarta has 11 terrific meeting and event spaces, including a Grand Ballroom and several beachside locations. The hotel can accommodate up to 200 people per event, making it possible for corporate conferences, while the high level of intimate services available is perfect for family dinners and special occasions.

RIU Palace Baja California

The RIU Palace Baja California offers a brilliant Cabo San Lucas experience located just in front of the famous Playa El Medano. This property upholds the high standards RIU has set in the tourism industry in terms of accommodations while catering to an adult-only clientele through the height of entertainment, relaxing amenities, and remarkable fusion cuisines.

Accommodations at RIU Palace Baja California are divided into 8 categories: Junior Suite, Junior Suite Connecting, Junior Suite Handicapped, Junior Suite Courtyard View, Junior Suite Grande, Junior Suite Partial Ocean View, Junior Suite Oceanfront, and Suite Ocean View.

Lounge 24 | Lounge Bar | Plaza Bar | Poolside Bar | Swim-up Bar | Grill | Capuchino | Indian Restaurant | Italian Restaurant | Japanese Restaurant | Krystal Fusion Restaurant | Main Restaurant | Poolside/themed Restaurant

The RIU Palace Baja California has over a dozen incredible meeting and event spaces that span from private dinner areas in specialty restaurants to large plazas in addition to spacious gardens. The hotel is prepared to cater to any and all events, dinners, corporate events and meetings, and special occasions you may be celebrating.

Conveniently situated in the Playacar resort zone and upon beautiful white sands, the RIU Palace Mexico features grand designs and architectural styles in addition to upholding the highest standards in accommodations, amenities, and services. With Playa del Carmen just minutes away, this hotel is ideal for groups seeking a relaxed, worry-free, and fun-filled time under the Mexican Caribbean sun.

Accommodations at RIU Palace Mexico are separated into 5 categories: Junior Suite, Junior Suite Handicapped, Junior Suite Superior, Suite, and Suite Jacuzzi.

Cubano Lobby Bar | El Palmeral Poolside Bar | Lounge 24 Bar | Capuchino Ice Cream Parlor | Los Mariachis Lounge Bar | Don Julian Buffet | Krystal Fusion | La Bodega | La Dolce Vita | Miyagi | Steakhouse

Hotel RIU Palace Mexico has 10 outstanding event spaces available that include the intimate gardens and several boutique restaurants, perfect for special occasions and family reunion dinners.

Situated among 450,000 square feet of verdant gardens and a short walk from downtown, RIU Montego Bay provides guests and groups with a superb tropical island experience. The oasis-inspired resort design in addition to the numerous on and offsite activities makes it a perfect all-around Caribbean vacation experience for families, couples, and class reunions.

Accommodations at RIU Montego Bay are divided into 11 categories that range from standard Double Rooms to the Ocean View Suite.

Coconut Bar | Exodus Lounge Bar | Sports Bar | Tai-Tai Poolside Bar | Kalu Asian Restaurant | Little Italy Restaurant | Mahoe Bay Poolside Grill & Steakhouse | Rose Hall Restaurant

RIU Montego Bay offers 8 versatile meeting and event spaces. Port Antonio is ideal for larger groups, while the Pool Bar Tai-Tai and Mahoe Bay Steakhouse are perfect for your family or class reunion dinners.

Situated on the soft white sands of Matapalo Beach, RIU Guanacaste provides guests and groups with the ultimate luxurious experience on Costa Rica's Pacific side. Surrounded by breathtaking natural landscapes and a stunning beachfront, RIU Guanacaste's tasteful and comfortable environment

Accommodations at RIU Guanacaste are divided into nearly a dozen categories that range from Standard Double Rooms to Two Bedroom Family Suites.

Krystal Restaurant | Krystal Mexican | Krystal Japanese | Krystal Steakhouse | Krystal Italian

There are 10 superb and versatile meeting and event spaces at RIU Guanacaste that can accommodate events as small as intimate couples' dinners and family reunions to grand wedding receptions and corporate conferences.