AM Resorts
AM All-Inclusive Resorts
AM Resorts is a series of luxurious all-inclusive properties across Mexico and the Caribbean. Every resort exudes its own distinctive atmosphere and offers premier accommodations, amenities, facilities, and of course, top-class service. AM Resorts properties include Zoëtry Wellness & Spa Resorts, Secrets Resorts & Spas, Breathless Resorts & Spas, Dreams Resorts & Spas, Now Resorts & Spas, Reflect Resorts & Spas, Sunscape Resorts & Spas.
All brands operated by AM Resorts specialize in state-of-the-art spas and treatment centers, as indicated in their titles. Additionally, many of these brands are adults-only, which makes these properties ideal for wellness retreats as well as bachelor and bachelorette parties. There are family-friendly options as well, with four brands that include kids' and teens' clubs, and offer environments that are both enjoyable and comfortable for all ages. AM Resorts group vacations have everything you can imagine and more to ensure your stay is as soothing as can be.
With numerous destinations from Puerto Vallarta to Cancun, from the Dominican Republic to the Bahamas, your options with AM Resorts are extensive as well as terrific. Whether you're on a romantic couples getaway, a family reunion, or celebrating the last days of your or a friend's bachelor(ette) life, AM Resorts has a brand and an experience just for you. The thoughtful blending of luxury and sincerity at AM Resorts establishments across the Caribbean is a pillar upon which this brand is prepared to make your group or family vacation an unforgettable one.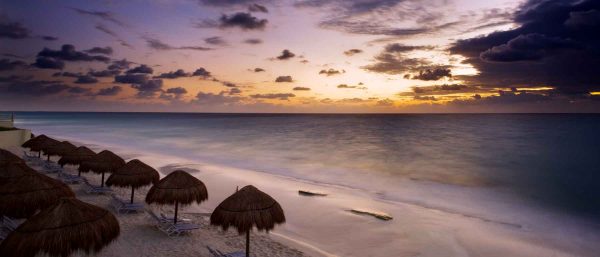 AM Resorts resorts
Just minutes from downtown Willemstad and offering the finest in accommodations and amenities, Sunscape Curacao sits upon pristine white sands. This resort's mantra is to provide guests and groups with the ultimate aquatic experience, as they offer world-class scuba diving, snorkeling, and other water sports in addition to an underwater park. Families, couples, and friends will all appreciate the jovial, upbeat tempo of Sunscape Curacao.

Accommodations at Sunscape Curacao are divided into 9 categories that range from Deluxe Room Garden View to Presidential Suite Ocean Front.

Coco Cafe | Bluewater Grill | Da Mario | Himitsu | Oceana Restaurant | World Cafe | Vegan Menus Available

Sunscape Curacao offers 7 versatile meeting and event spaces, the largest of which can accommodate up to 350 people. Whether you are planning an intimate family reunion dinner or a grand corporate conference, the resort will be prepared and eager to assist you.

Breathless Riviera Cancun

Located between the dense rainforests and the Caribean Sea, Breathless Riviera Cancun is a modern and luxurious all-suites property featuring the finest in contemporary amenities and accommodations. With premier chefs and kitchens, numerous outlets of entertainment, and the highest level of services, Breathless Riviera Cancun is among the elite, most complete Mexican Caribbean experiences.

Accommodations at Breathless Riviera Cancun are divided into a whopping 13 categories ranging from the Allure Junior Suite Ocean View to the Xhale Club Presidential Suite Swim Out Ocean Front.

After Dark Sports Bar | Deep Swim-up Bar | Lush | Showstopper Theater | Twist & Squeeze | Wink Pool Bar | Coco Cafe | Barefoot Grill | Bites Tapas | Coquette | Kibbeh | Mexican Restaurant | Silk City | Spoon | Spumante

There are over a dozen premier meeting and event spaces at Breathless Riviera Cancun. Meeting rooms range from under 1000 to over 8000 square feet and can accommodate anything from birthday parties and family dinners to corporate conferences and wedding receptions.

Located just off Playa Los Coprolitos and offering an elegant all-suites experience, Secrets Vallarta Bay is an ideal location for your next vacation. The resort provides easy access to the famous El Malecon boardwalk where you and your travel group can enjoy an array of art galleries, shopping, delicious Mexican dishes, and a bustling night scene. There is no shortage of ways to enjoy time in the Mexican Pacific at Secrets Vallarta Bay.

Accommodations at Secrets Vallarta Bay are divided into nine different suite categories, ranging from Junior Suite Ocean View to Presidential Suite.

Desires Bar | Manatees | Preferred Clu Bar | Rendezvous | Showtime | Sugar Reef | Market Cafe | Barefoot Grill | Bordeaux | Oceana

Secrets Vallarta Bay offers eight spectacular meetings and event spaces that span from 350 square feet to 4,500. Several of the event spaces can be paired together to accommodate larger events, so there is nothing too grand or out of reach for this resort.

On the stunning volcanic black shores of Papagayo Bay on Costa Rica's Pacific side, Secrets Papagayo is surrounded by verdant mountains and is an ideal getaway for couples, families, and more. This incredible all-suites resort offers guests and groups the height of luxurious amenities as well as a number of awesome ways to get out and enjoy the paradisal tropical surroundings.

Accommodations at Secrets Papagayo are divided into 8 categories that range from Standard Panoramic View to Preferred Club Presidential Suite.

Barracuda Beach & Pool Bar | Manatees Swim-Up Bar | Rendezvous Lobby Bar | Revive | Sugar Reef | Coco Cafe | Seaside Grill | Himitsu | Market Cafe | Portofini

The Papagayo Amphitheater has a maximum capacity of 400 people. This grand space is also versatile and can serve as an intimate location for smaller events. The Secrets staff are equipped and prepared to prepare this venue accordingly to any event you are planning.

Situated on stunning white sands on Guanacaste's Northern coast, Dreams Las Mareas offers a most lavish Costa Rican experience, a unique option for adventurous groups, set amongst lush tropical rainforests. Guests can expect a stunning location, in a remote area of Guanacaste, ideal for relaxation, or nearby excursions to explore the local wildlife.

Accommodations at Dreams Las Mareas are divided into 12 categories that range from Junior Suite Mountain View to Preferred Club Presidential Suite Swimout Ocean Front. Preferred Club accommodations include additional amenities.

Barracuda Pool Bar | Manatees Swim-up Bar | Rendezvous Lobby Bar | Sugar Reef Oceanfront | Tortuga Pool Bar | World Cafe Buffet | Coco Cafe | Barefoot Grill | Seaside Grill | Revive | El Patio | Himitsu | Oceana Seafood | Portofino Italian Restaurant

There are a total of 17 different meeting and event spaces at Dreams Las Mareas. Everything from intimate beachfront or garden dinners to grand wedding receptions or corporate conferences are possible. Several spaces can also be combined to accommodate specific needs, if necessary.