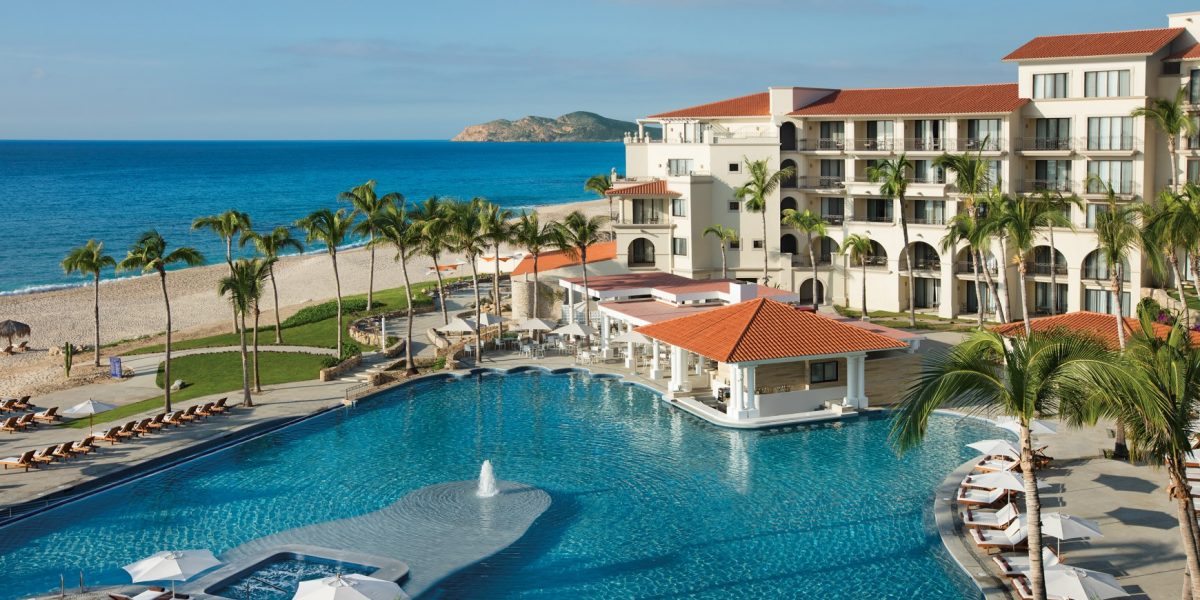 Group Vacations to Cabo San Lucas
For Cabo San Lucas Groups Starting at 20+ Guests!
Over the course of a decade, Cabo San Lucas has quickly transformed from a quiet oceanfront haven to a dazzling tourist and party hub. With its close proximity to a plethora of exciting excursions and activities ranging from relaxation to outdoor adventures, Cabo San Lucas offers travelers with a wholesome activity-filled Mexico getaway. Because of its popularity, the oasis' resorts can easily accommodate larger groups of all ages, making group vacations to Cabo San Lucas simpler than ever to both coordinate and enjoy. Check out our list of stellar group-friendly Cabo San Lucas resorts below: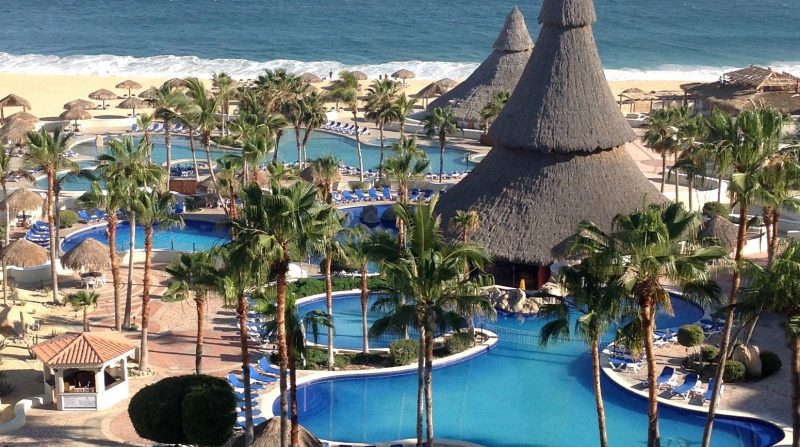 Sandos Finisterra
Just steps from downtown Cabo San Lucas and a stone's throw from refreshing waters, the Sandos Finisterra is an idyllic paradise for groups seeking a bevy of entertainment options. Surrounded by the natural beauty of the Baja Peninsula, as well as the bustling marina, the resort offers stunning views and seemingly endless amenities. Whether you're hankering for gourmet cuisine or clamoring for a jet ski, the Sandos Finisterra is perfect for travelers of all ages. A family-friendly resort, some of the sprawling property's suites can accommodate up to 7 guests, enabling large families and travel groups the opportunity to experience this tropical oasis together.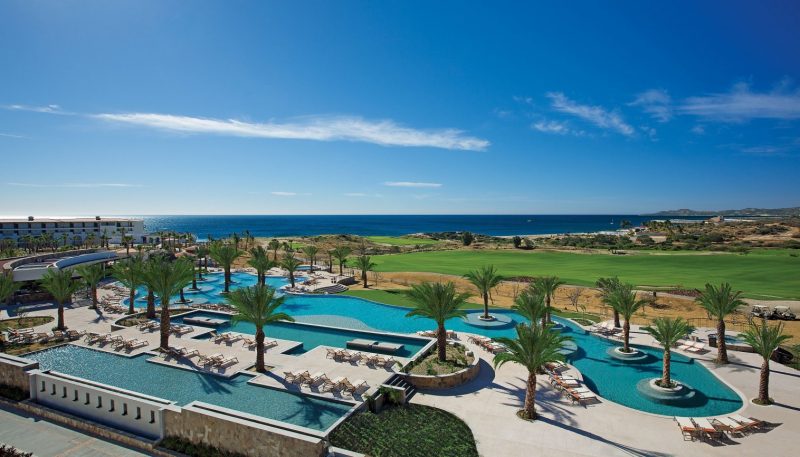 Secrets Puerto Los Cabos Golf Resort
Inspired by traditional Mexican estate architecture, Secrets Puerto Los Cabos Golf Resort is devoted to providing an exclusively elegant Baja California retreat. A lavish adults-only resort prospering on the golden beaches of Los Cabos, the property features 3 sparkling pools including 1 expansive infinity pool. Large groups at Secrets Puerto Los Cabos can relish in an impressive set of all-inclusive activities ranging from exquisite wine and tequila tastings to beach and pool volleyball. Additionally, large golfing groups can hit the green at the complimentary Puerto Los Cabos Golf Course, located less than a minute away from the resort.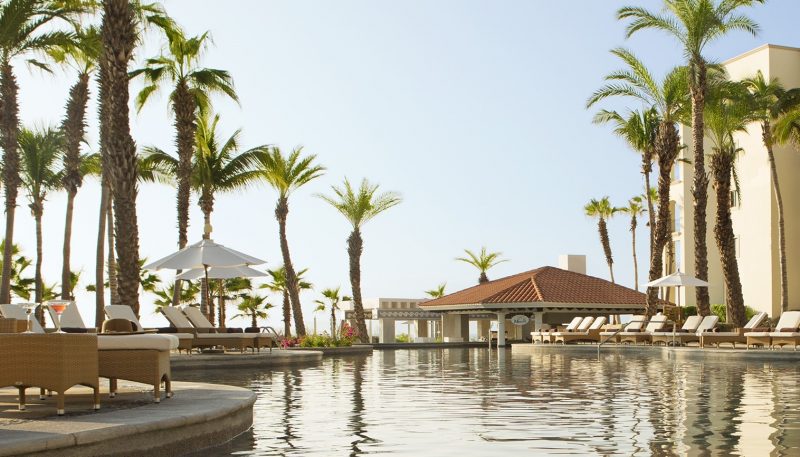 Dreams Los Cabos Suites Golf Resort
Immerse yourself into a world of relaxation and luxury as you take in the breathtaking views of the scintillating Sea of Cortez at Dreams Los Cabos Suites Golf Resort. Equipped with 8 championship golf courses, a lavish array of oceanfront suites, and a plethora of refreshing pools, the resort can elevate any large group vacation. From a nearby sea turtle sanctuary to weekly movie nights on the beach, Dreams Los Cabos Suites Golf Resort includes a wide range of excursions and entertainment that requires little to no extra travel. For large groups desiring a more physically engaging vacation, the resort is only a few miles away from exhilarating zip-line courses and panoramic ATV tours of the desert.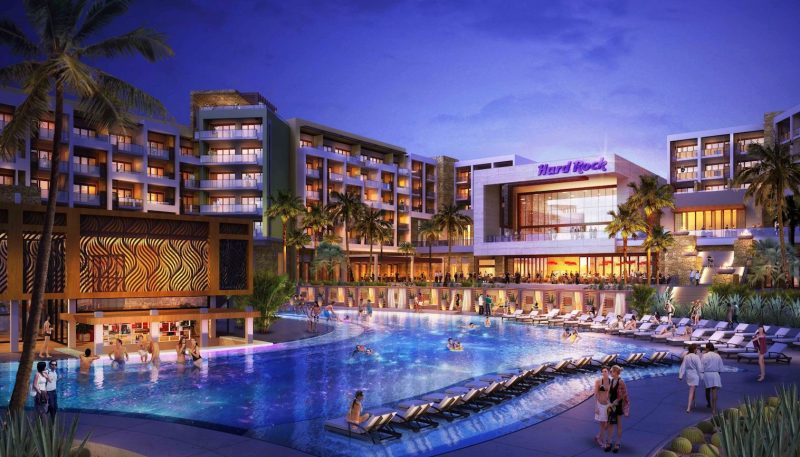 Hard Rock Los Cabos
One of the best problems to have while on an exciting Cabo San Lucas getaway is settling on one activity or excursion to explore. Hard Rock Los Cabos solves this problem. Part of the internationally recognized chain of rock-infused resorts, Hard Rock Los Cabos invites guests to "turn your vacation up to 11" with direct access to an impressive variety of exclusive amenities. Tranquility awaits with the all-new Rock Spa Rhythm and Motion treatment, while libations are flowing with 4 pool bars and 3 lounges for members of the group ready to party. Featuring an action-packed Hard Rock Roxity Kids Club, travelers of all ages can enjoy the high-life at the resort's bowling alley, basketball and tennis courts, or one of the property's many shows.
Within the crop of group-friendly Mexico destinations, Cabo San Lucas rises to the top. When planning a large group vacation to Cabo San Lucas, all-inclusive resorts such as the ones listed above are your best friend. Providing guests with premier dining, nightlife, and adventure options, such beachside havens deliver something for everyone, all with a unique Baja California flair.
Want to discover more sea breeze-infused Cabo San Lucas resorts perfect for large group vacations? Follow the button below to learn more about our featured resorts:
Have questions about planning your destination wedding? Call us now:

800-838-9313