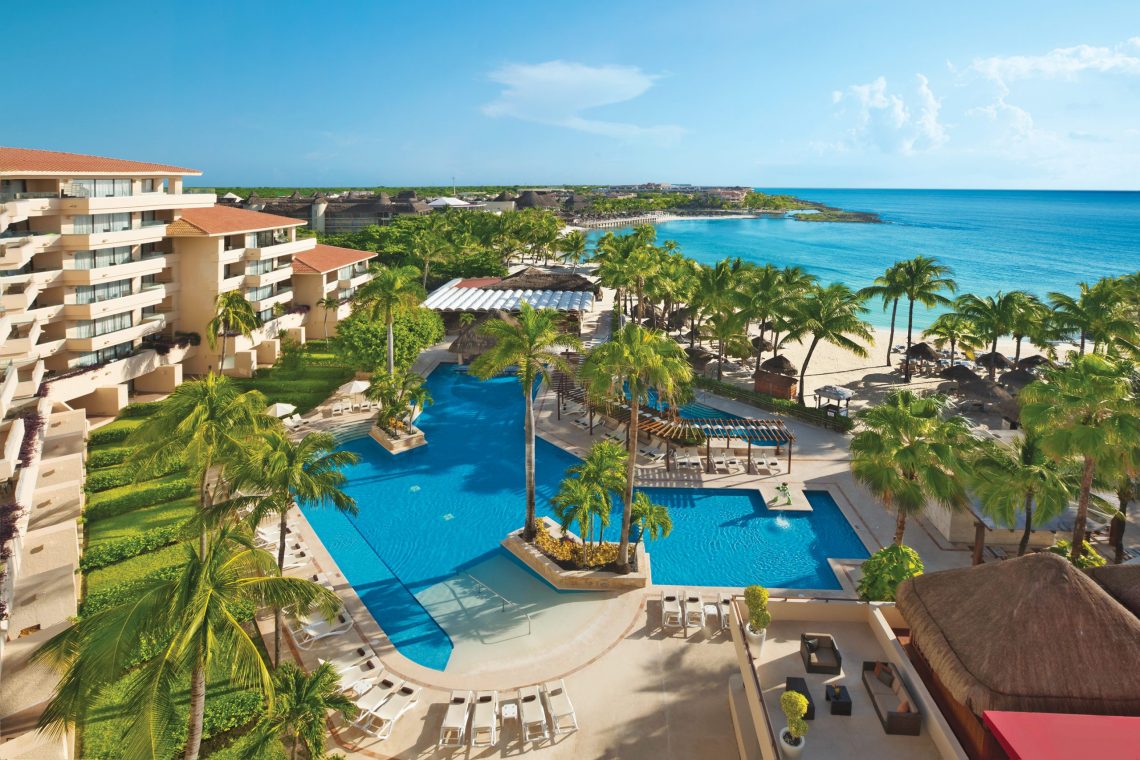 Riviera Maya Group Vacation Resorts
For Riviera Maya Groups Starting at 20+ Guests!
Located on the gorgeous Caribbean coastline of Mexico, Riviera Maya offers a diverse selection of culturally-enriched activities and experiences that ultimately contribute to an unforgettable tropical retreat. Set along the sun-laden shores of the lush region, a multitude of all-inclusive resorts are devoted to providing an idyllic getaway for guests of all ages. Although there are a plethora of solid properties to choose from, we have narrowed down the field to a concise list of stellar all-stars: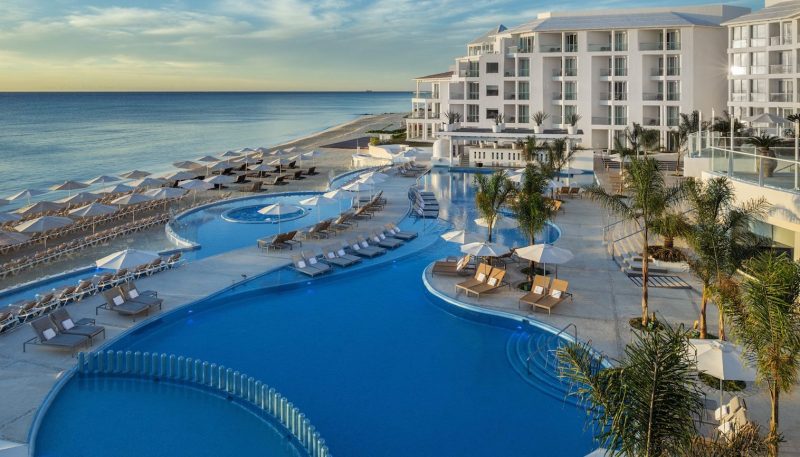 Playacar Palace
Situated perfectly on the pristine white sands of Riviera Maya, Playacar Palace offers group travelers a bevy of all-inclusive amenities at an affordable rate. Clocking in at an economical $110-$135 per person per night, the resort guarantees a prosperous, budget-friendly Mexico getaway. Whether your group is dancing the night away at a nearby Playa del Carmen nightclub or sailing through the shimmering waters via jet ski, Playacar Palace features exciting excursions perfect for travel groups of all ages.
With several conference rooms equipped with the latest A/V technology, the resort is ideal for group meetings and other functions. There are over a dozen superb meeting and event spaces at Playacar Palace, with capacities that range from 0 to 400. Whether you're planning an intimate family reunion dinner or a corporate conference event, Playacar Palace has the resources and services to cater exactly what is necessary.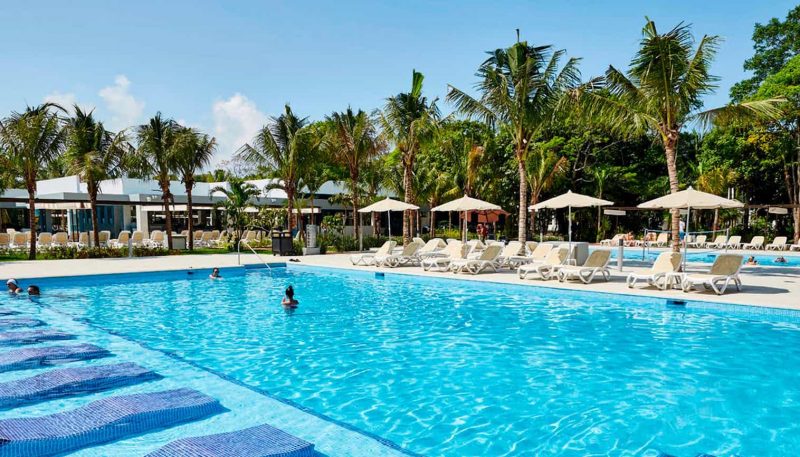 RIU Tequila
Nestled a short walk from downtown Playa del Carmen, RIU Tequila provides group travelers with direct access to a multitude of world-class shops and restaurants, as well as a luxurious beachside haven. Unwind poolside in the shade with a cocktail at any one of the resort's 4 shimming infinity pools, or indulge in expansive gourmet buffets and eateries fit for every group member's taste preferences. Located in the heart of Riviera Maya, RIU Tequila's proximity to nature-infused excursions enables guests to discover areas such as the island of Cozumel, the Xcaret and Xel-Ha parks, and the Sian Ka'an Biosphere Reserve.
For travel groups seeking meeting areas for their next corporate or celebratory function, several restaurants and bars double as versatile event spaces at RIU Tequila and can accommodate a variety of group sizes as well as types of events. The Veranda is great for large business conferences while Coco's and Rosa Roja are ideal for more intimate gatherings and special occasions.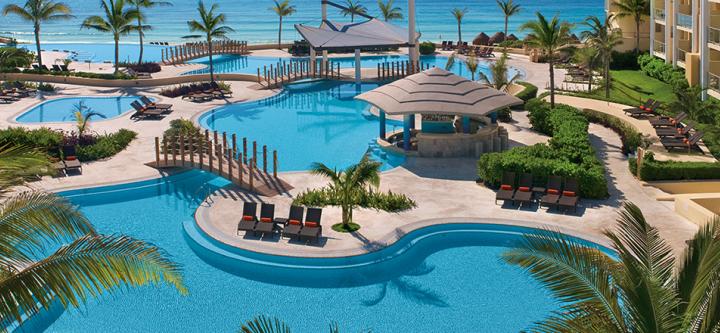 NOW Jade
Prospering on a glorious 2,600 ft of pristine white sand, NOW Jade is a paradisal Caribbean gem that aims to deliver an extraordinarily unique and luxurious retreat for large groups. For adults, the resort features daily, locally-produced tequila tastings, as well as a nearby professional golf course with complimentary green fees. Worried about keeping your younger travelers entertained? NOW Jade hosts the interactive Explorer's Club, a highly supervised children's program with endless activities ranging from cooking classes to aiding baby sea turtles in their quest to the sea.
With a full-service business center, a ballroom that can seat up to 1,200 people, and private terraces and beach areas, the NOW Jade resort has a venue for every occasion. Those planning group trips can rest easy knowing the resort has a team of dedicated event planners to ensure every detail of your event is taken care of.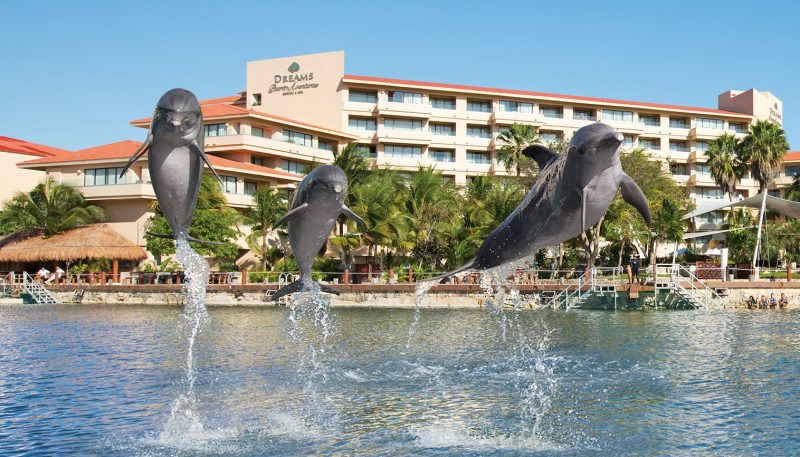 Dreams Puerto Aventuras
No matter which Riviera Maya activity you're looking to cross off the bucket list, Dreams Puerto Aventuras will be sure to deliver a variety of dazzling on and off-site excursions. A palm tree-studded resort located near a charming marina village, the resort welcomes guests to swim with dolphins and other marine mammals, and even tee off on one of the finest mini-golf courses in Mexico. Feeling adventurous? Take a short bike ride to the marina and discover local shops and other culturally-infused excursions.
Dreams Puerto Aventuras offers a large ballroom that breaks down into two meeting rooms with a large foyer, an indoor theatre, and an outdoor terrace area. With state-of-the-art audio/visual capabilities and world-class catering services, the resort's venues are perfect for multi-day corporate conferences, seminars, and various celebrations.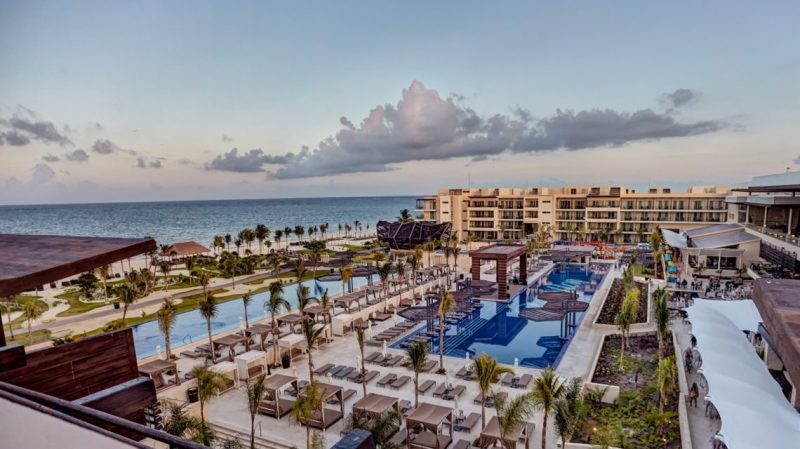 Royalton Riviera Cancun
One of the hottest vacation spots in Riviera Maya, Royalton Riviera Cancun thrives along the scintillating Caribbean coastline as a tropical oasis for large travel groups. Providing a wide selection of family-friendly entertainment, the property boasts a set of 11 pools, a tantalizing on-site water park, and various non-motorized water sports. Located a short drive from the tantalizing hub of Cancun, Royalton Riviera Cancun is ideal for travel groups seeking both a private Caribbean stay with a collection of exciting off-site excursions to choose from.
From the resort's business center to its ballroom, the Royalton Riviera Cancun has spaces catered to both small and large group events of any kind. Whether it be a bachelorette party or a business meeting, the Royalton Riviera Cancun will make sure you have everything you need to ensure your group event is perfect.
Whether you're a group of former classmates reconnecting in paradise, or simply a family searching for an immersive Caribbean vacation, we can guarantee that Riviera Maya and its many accompanying all-inclusive resorts will elevate your next group getaway. With family-friendly activities and dazzling nightlife, this lush Mexico region is the next destination you should consider while planning your upcoming group vacation.
Want to discover more group-friendly Riviera Maya resorts? Follow the button below and find your all-inclusive paradise now:
Have questions about planning your destination wedding? Call us now:

800-838-9313