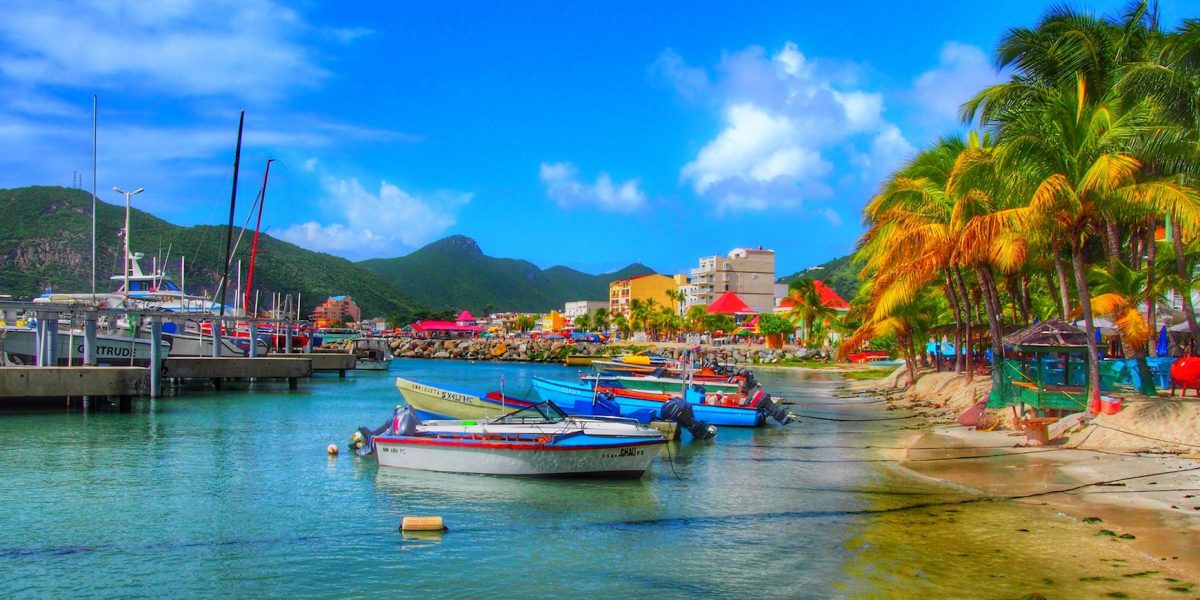 Explore St. Martin
A Slice of Friendly Paradise
Let's take a break from the fast-pace tourist hubs of Cancun and Punta Cana. Traveling east of the Dominican Republic, we discover the blissful island of St. Martin. A paradisal gem nestled in the center of the Netherland Antilles, St. Martin features one of the more unique identities in the Caribbean Islands leftover from colonial rule: the region garners a Dutch and French side. As a result, the opulent oceanfront haven possesses a truly distinct personality and culture, making it one of the most exciting Caribbean destinations. So, let's explore "The Friendly Island," and all of the wondrous perks that St. Martin has to offer: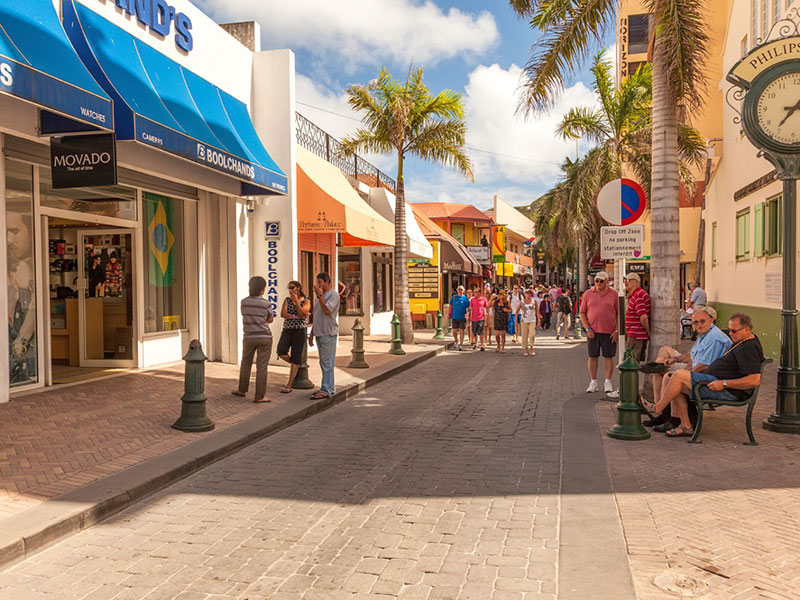 Philipsburg Luxury Retail
In the heart of Sint Maarten, a bustling city center radiates with a selection of high-end shopping centers: Philipsburg. The capital of this vibrant tropical gem, Philipsburg is home to seemingly endless department stores and elegant boutique vendors. A walk down Front Street invites you to a taste of Caribbean excellence, where lavish brand names such as Prada and Rolex have found valuable real estate, delivering immaculate amenities to tourists and locals alike for decades.
If you're looking for an extravagant shopping experience away from home, perhaps grace the walkways of Sint Rose Shopping Mall. An open-air marketplace akin to Santa Monica's 3rd Promenade, the mall houses dynamic establishments ranging from exclusive Cartier jewelers to charming local art galleries. After a satisfying day of retail, make sure to visit the Philipsburg boardwalk with a pina colada in hand and take in the enchanting sunset.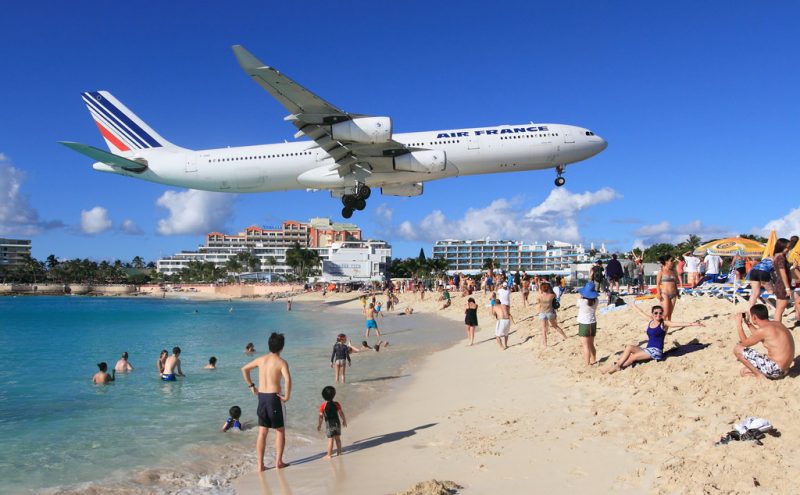 Maho Beach
This beach isn't just for swimming. One of the hottest and most recognizable photo locations in the world, Maho Beach features an extraordinary interactive excursion that'll truly blow your mind. No literally, it'll physically sweep you off your feet. Aptly built adjacent to the beach's golden sands, Princess Juliana International Airport's beachside runway forces airplanes to land AND take off merely a stone's throw from the sea. The result? Flights are often pictured perfectly suspended in mid-air above beachgoers below.
Alas, despite its popularity in travel photographers and daredevils alike, Maho Beach is also a popular destination for snorkelers and travelers seeking an exhilarating spot to catch some rays. Just a stroll up the banks, Sonesta Ocean Point prospers as our top resort for group vacations desiring a chic Caribbean retreat teeming with five-star amenities and direct access to private shores.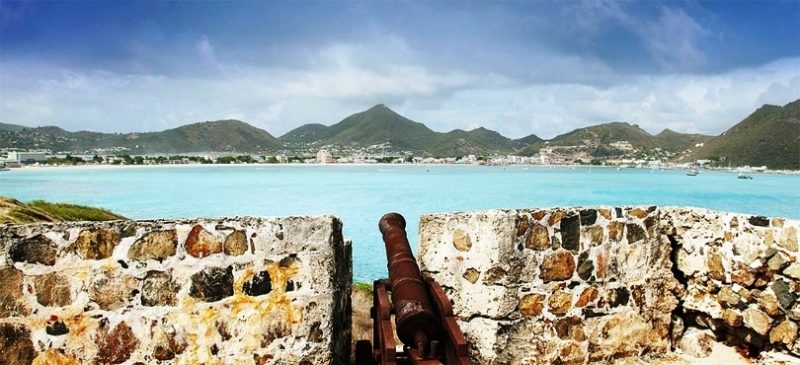 Fort Amsterdam & Fort Louis
It's the 18th century and a duo of global superpowers currently occupy the island. The central focal points of each nation? Their heavily fortified garrisons equipped with cannons and battalions of loyal soldiers. Fast forward to the year 2020 and the ruins of Fort Amsterdam and Fort Louis exist as unique time machines to a forgotten era of colonial rule. Nowadays, these powerful redoubts serve as interactive hiking destinations for travel groups and historians, where dilapidated overlooks juxtapose their surrounding natural Caribbean beauty.
An elegant property only a small jaunt from Fort Amsterdam's entrance, Divi Little Bay Beach delivers a classy island escape and the perfect gateway to the landmark's historical halls. Providing direct access to all guests, the resort leads daily fort tours, complete with professional guides and even a catered lunch after the excursion.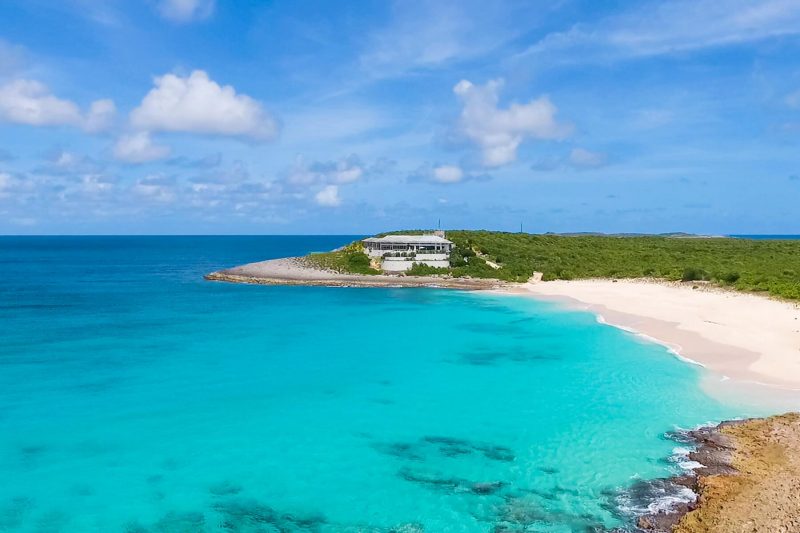 Island Hopping & Adventure Shopping
Get your best sandals and swimsuit, it's time to island-hop! Due to its location within the Dutch Antilles, St. Martin provides a strategic launching point to a collection of secluded sun-kissed islands, each with their own universe to offer. Take a soothing catamaran ride to Anguilla, a British Caribbean island populated by sugary white sand beaches, crystal clear waters, and immersive snorkeling tours. Looking for a more private escapade? Set a course for Tintamarre Island, a deserted region where breathtaking coves and acres of lush palm tree groves offer a truly isolated day trip experience.
If you don't have your sea legs yet, there's plenty of dazzling excursions to explore in St. Martin. Located on the northern tip of the island, Loterie Farm thrives as a nature preserve for some of the island's most exotic wildlife. Additionally, the property invites guests to over 135 acres of hiking trails, zip-line courses, and freshwater ponds designed to heighten your St. Martin retreat.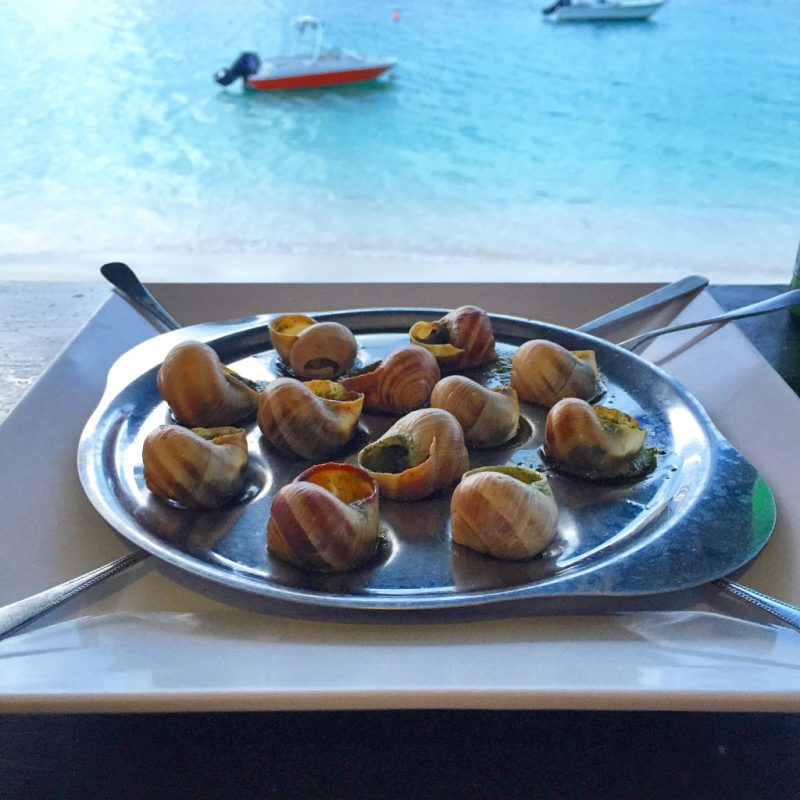 Mouthwatering Dutch-French Cuisine
We've come to one of our favorite aspects of St. Martin: its unparalleled fusion of international cuisines. Forming a beautiful symphony of flavor, St. Martin's culinary prowess finds its roots in Dutch and French Haute cuisine. Delectable art forms steeped in tradition, these global styles are elevated by the island's talented chefs, whose contemporary flair produces a showstopping array of establishments. St. Martin doesn't stop at luxury fine dining. Showcasing some of the island's best meals, barbecue huts dot the region, all churning out Caribbean comfort foods ranging from pork ribs to sweet Johnny cakes.
A crossroad of resort and culinary excellence, Secrets St. Martin is perfectly situated near the alluring hub of Anse Marcel, a beachside sanctuary serving up Michellin-rated eats and stellar service. Featuring an all-inclusive rate, the hotel is walking distance from award-winning restaurants offering the height of Caribbean cuisine.
There's an addicting charm that surrounds St. Martin. Maybe it's the engaging excursions with endless opportunities to discover your inner-explorer, or perhaps it's the welcoming chatter of Front Street. At the heart of this Caribbean slice of paradise is an unshakable, distinct identity that defines the travel group getaway of a lifetime, one filled with fresh coconut milk and chic comforts:
Want to learn more about this stunning Caribbean gem and more? Follow the button below to view more paradisal destinations and travel tips:
Have questions about planning your destination wedding? Call us now:

800-838-9313