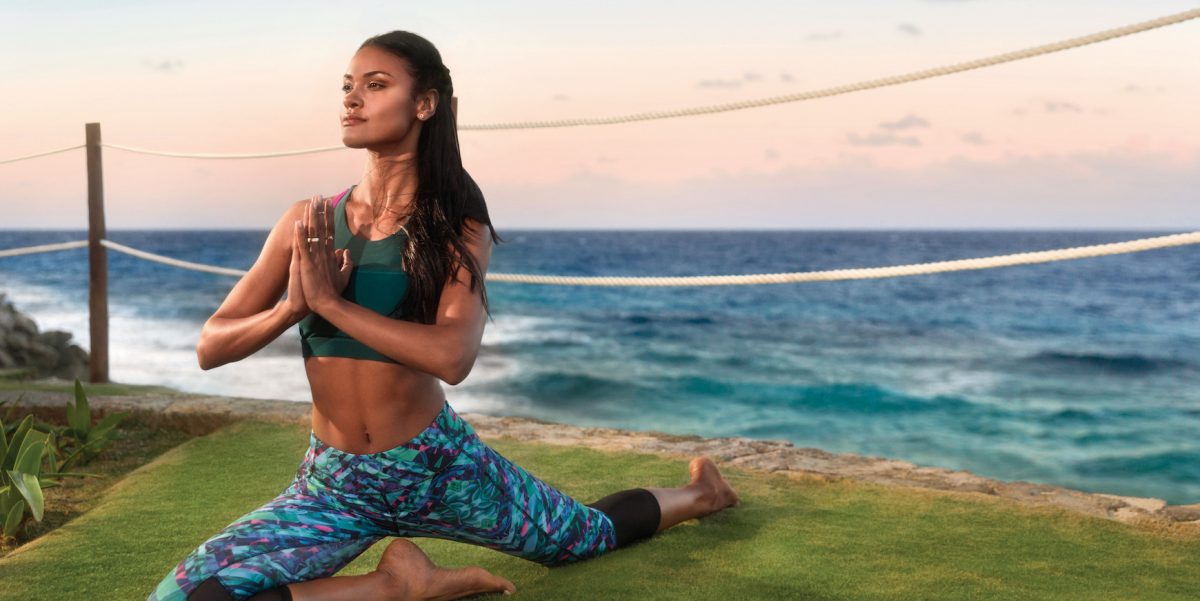 Experience The Ultimate Zen Moment At These All-inclusive Wellness Retreats
If you are ready to book an all-inclusive wellness retreat to have the ultimate zen moment, to flee the daily grind, or to have an early yoga session and some sun, then this guide is for you! We have got some exciting ideas for your future all-inclusive wellness retreat:
Although there are lots of options, knowing which retreats are worth the money depends on what you are looking for. The next time you are daydreaming of an island paradise getaway to an idyllic archipelago filled with pristine beaches, azure water, and the world's most incredible natural landscapes – choose the Caribbean.
While you are in the Caribbean, deciding where to visit among the countless resorts and hotels can be tricky. Whether you are looking for an adventure, physical exercise, relaxation, or scenic exploration, here are some of the top activities you can do during all-inclusive wellness retreats. We have compiled some of the best destinations as well, sprinkled throughout the article.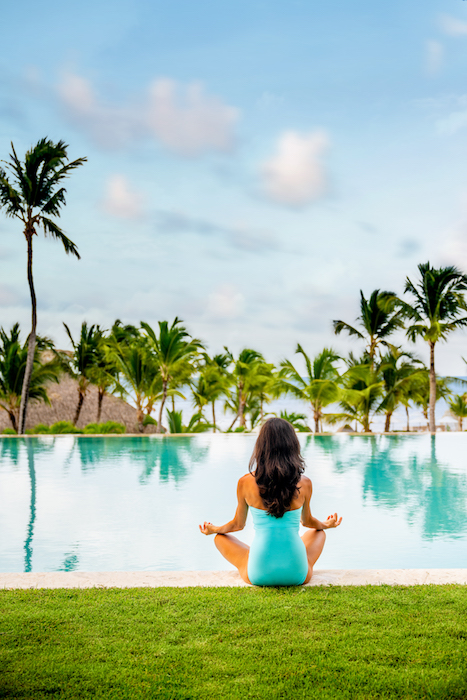 Beaches and Relaxation
Have some fun, build comradery, and impress your group through engaging group beach activities. No vacation is complete without finding your bliss and relaxing on a spacious beach. Head to the beaches of Punta Cana or Cancun, if you are looking for picturesque beaches with calm surf, soft sand, and warm waters so that you can enjoy being enveloped by the natural saltwater bath. Don't forget your sunscreen, and plenty of reading material, particularly if you are planning lots of lounge chair time.
Snorkeling and Scuba Diving
The Caribbean is known for the best diving and snorkeling resorts, which are easily accessible for both experts and beginners alike. Plus, scuba diving and snorkeling require much less gear and effort which makes it easy to add to your to-do list. The crystal clear waters are famous for their essential beauty and marine wildlife. Once you dive into the ocean, getting out is the hardest part.
Many of our all-inclusive resorts feature scuba diving instructors and lessons directly on-site. Consider resorts in Cozumel, or amongst the more unique Caribbean Islands like St. Martin or at the budget-friendly resort of Sunscape Curacao which features diving opportunities directly from the property.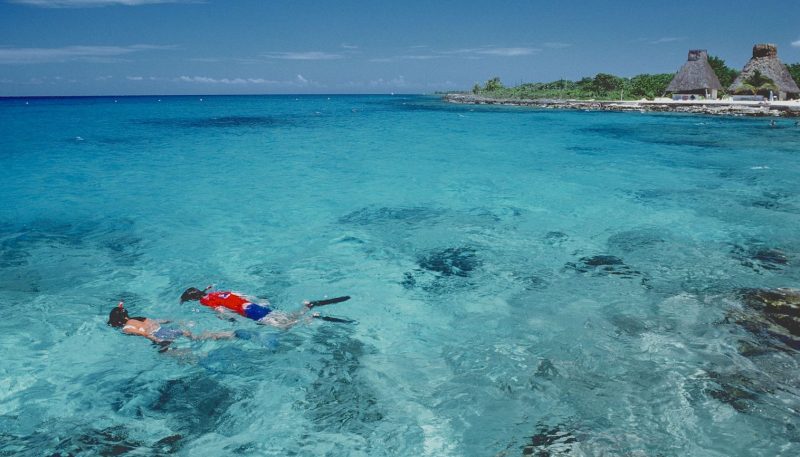 Watersports
Imagine yourself gliding over the glass-like turquoise water on a paddleboard as the bright sunlight warms your skin and the small tropical fish swim under your feet. Experience the real joy of kayaking, surfing, and stand up paddleboarding. The best part? Your all-inclusive resort will include these activities for free! Simply check out the item you'd like with your room number.
Daily Aqua Aerobic Classes
Here is your call to fitness during your Caribbean vacation. Along with the fun memories you make, it's ideal to get some physical exercise during your vacation. Your body will thank you. Almost all luxurious all-inclusive wellness retreats you choose offer water aerobics classes daily, with trained professionals and pumping music.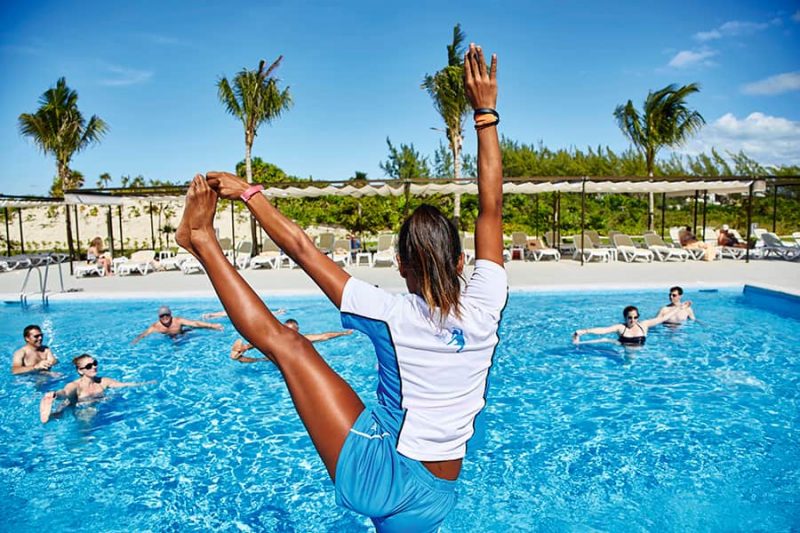 Reconnect Through Group Meditations
Are you ready for some me-time? During your next vacation with friends, achieve zen with group meditations at your destination. Reconnect with nature and your surroundings. The Caribbean has everything it takes; a calm environment, the ocean breeze, and spacious views that bring tranquility to your life. Work with your concierge to set up this event for your group, there will be several event spaces available. Research off-site vendors who can come to the resort to lead the meditation, or bring your own as part of your group.
Morning Yoga Sessions
There is nothing better than a refreshing morning yoga session, it's a no brainer. Once you add a morning yoga session to your stay, you will feel your soul rejuvenated, and your mind refreshed. Take deep breaths and say goodbye to stress with a memorable yoga session! Your resort will likely offer this activity every morning, or at least multiple times throughout a week. Check ahead with the entertainment programming.
Through your daily yoga practice, you will systematically open your body and learn about the ancient science of chakras and how they relate to your physical and mental health. Each programming includes themed guided meditation, breathing exercises,  and yoga exercises for all levels of practitioners. Your soundtrack will be the soothing sounds of the ocean.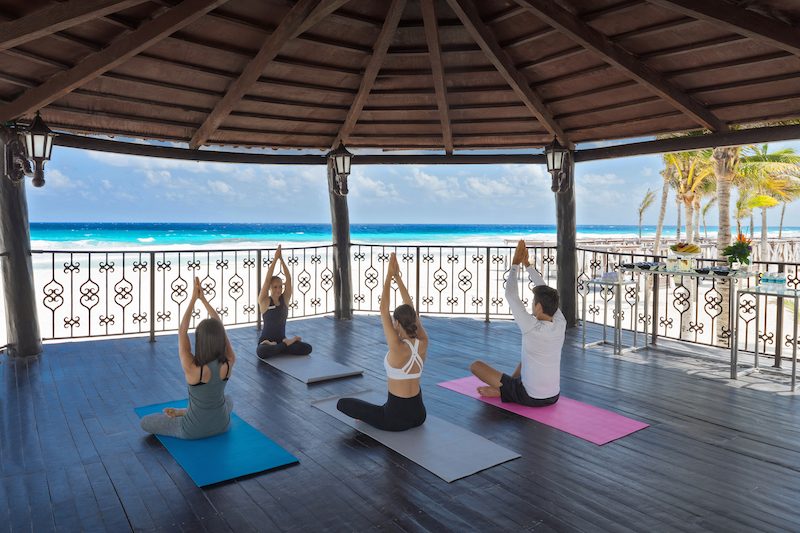 Mexico and the Caribbean have tons to offer your next all-inclusive wellness retreat. And we can help you plan it all! From event programming to venue rentals and finding that perfect resort, we're readily equipped to help.
To explore more wellness group retreats, follow the button below:
Have questions about planning your destination wedding? Call us now:

800-838-9313