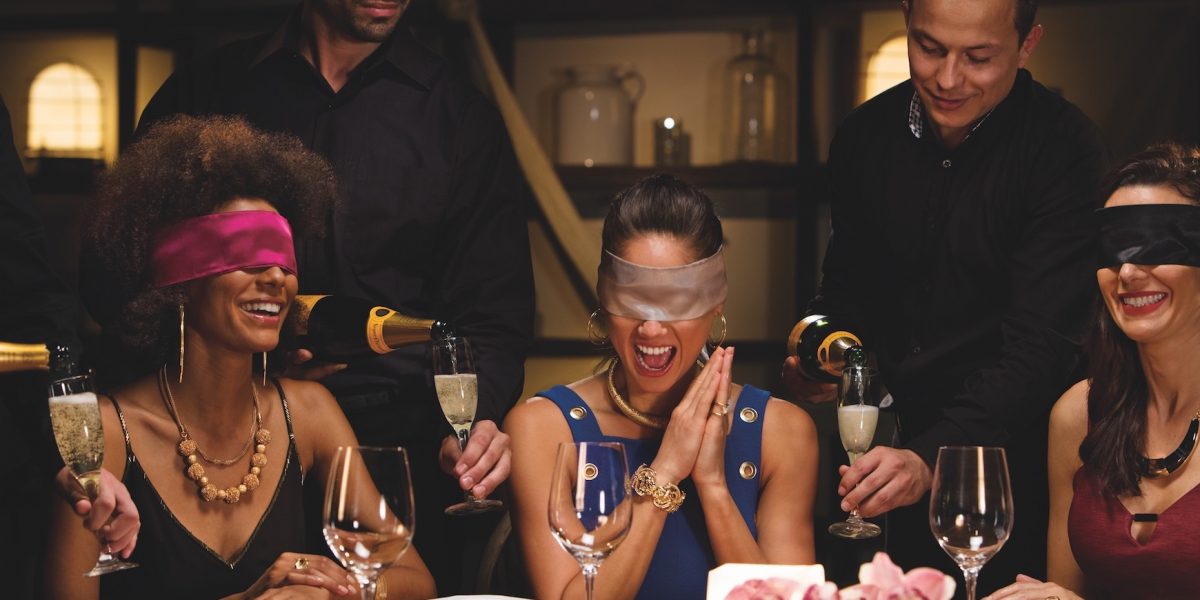 Top Resorts for Bachelor/Bachelorette Groups
Plan an Unforgettable Night at these Tropical Havens
Picture this: you're the best friend of the bride or groom at the destination wedding you've been invited to, and you're given the task of coordinating a memorable bachelor/bachelorette party. Make the challenge easy by booking an unbelievable group vacation at a truly affordable rate. We have curated a list of top resorts that will surely guarantee a remarkable stay for bachelor/bachelorette groups: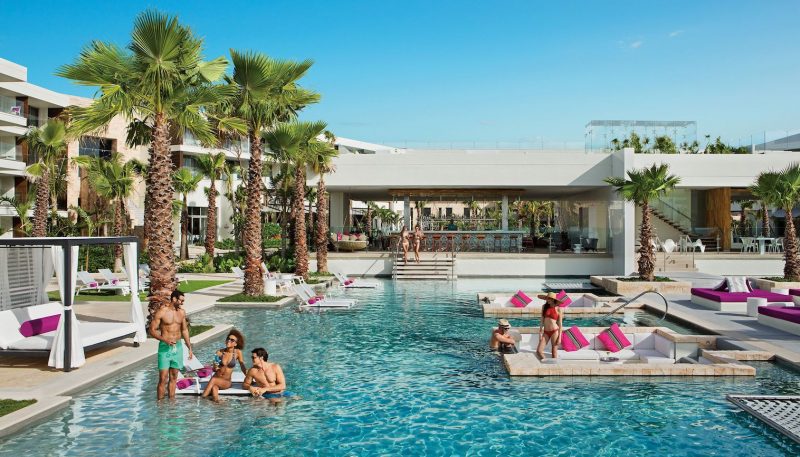 Breathless Riviera Cancun – Riviera Maya, Mexico
It's time to party in Riviera Maya, where the vibrant Breathless Riviera Cancun thrives on delivering stellar bachelor/bachelorette group experiences. An adults-only sanctuary, the resort prospers on a private stretch of tranquil, golden sand beaches. Whether you're sipping cocktails under a secluded poolside cabana or catching some swells via professionally taught surfing lessons, this property will guarantee a dynamic getaway.
Bachelor/Bachelorette groups will discover their preferred party setting, and perhaps learn how to do the underwater Electric Slide in the process. Flawlessly designed to accentuate the occasion, Breathless Riviera Cancun hosts daily themed pool parties equipped with DJs, high-tier liquor, and endless gourmet appetizers just steps from your suite! All Breathless resorts also have bachelorette and bachelor party packages available for purchase as well.
RIU Cancun – Cancun, Mexico
Welcome to the all-inclusive Cancun bachelor/bachelorette party of a lifetime. In the thick of Cancun's Hotel Zone resorts, a hidden gem outshines them all: RIU Cancun. Nestled gorgeously on the shores of the Caribbean, the complex proudly offers 3 freshwater swimming pools and a multitude of relaxing Jacuzzis, and swim-up bars too. Although the resort welcomes guests of all ages, RIU Cancun features a host of adult-oriented activities.
Bring the bride and groom to the on-site Pacha Nightclub, where high-octane beats and handcrafted cocktails lead into the early morning hours. Still, searching for a place to let loose? Take a short taxi ride to downtown Cancun, an adrenaline-pumping city boasting a classy collection of bars and world-famous restaurants.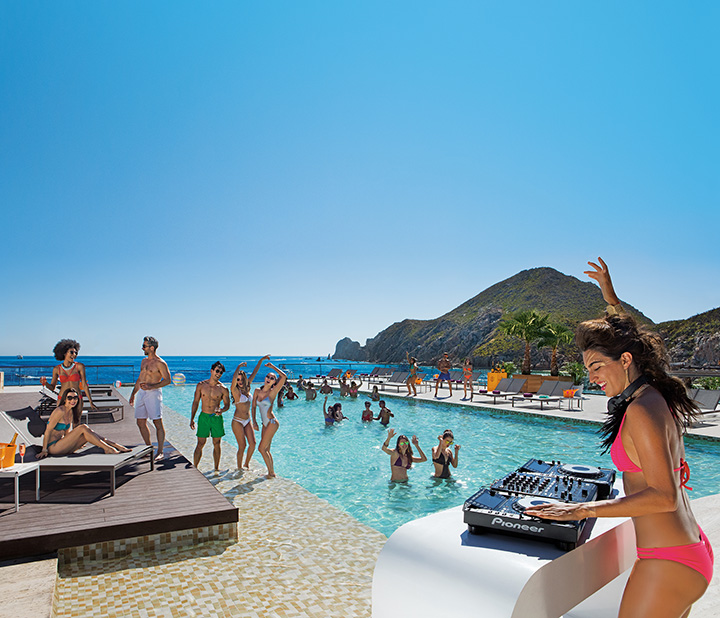 Breathless Cabo San Lucas – Cabo San Lucas, Mexico
Our list brings us to another all-star Breathless establishment. Similar to RIU Cancun, Breathless Cabo San Lucas provides an exuberant stay with plenty of all-inclusive benefits and direct access to an exciting city center. Specializing in lavish oceanfront excellence, the resort is situated on Medano Beach, a globally-acclaimed hotspot for water sports and delectable cuisine.
An adults-only playground showcasing the finest spa facilities and amenities, your bachelor/bachelorette party can forget about your to-do lists and let your worries slip away over mimosas and facials. That's not all. Parties can elevate their retreat via yacht excursions to secluded islands courtesy of the neighboring marina. Now your stressors can "sail away" too!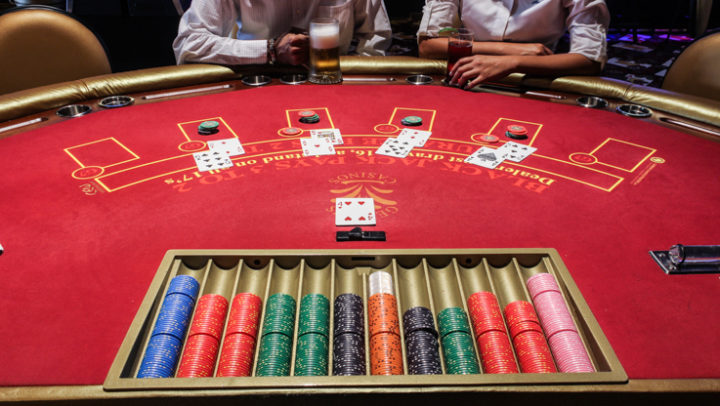 Royalton Bavaro – Punta Cana, Dominican Republic
We've covered Mexico, now let's explore the sun-laden paradise of the Dominican Republic. Specifically, we narrow our sights on Punta Cana's Royalton Bavaro, an extravagant haven ready to accommodate and heighten your bachelor/bachelorette party experience. There's a certain charm that has imbued this classy coastal sanctuary. From thoughtfully designed architecture to stunning seascape vistas, Royalton Bavaro epitomizes the concept of Caribbean chic.
With a steady flow of high-end amenities, group parties can try their luck at the on-site Genesis Casino or even learn how to belly dance from live nightly performers. Adventurous travelers will be elated to hone their surfing skills while catching consistently tubular swells on the complimentary Flowrider wave machine.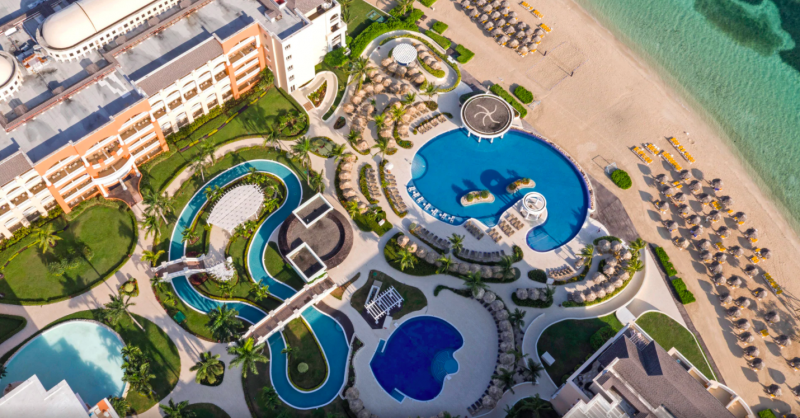 Iberostar Selection Rose Hall Suites – Montego Bay, Jamaica
Get those martini orders ready to go at Iberostar Selection Rose Hall Suites (shaken, not stirred). This Montego Bay resort includes a wholesome appreciation for 007. Add a historical flair to your party with a short trek to James Bond Beach, a beachside paradise where English author Ian Flemming penned 13 of the globally-acclaimed James Bond novels. If you prefer to stay on-site, you and your guests will discover an influx of interactive activities ranging from alcohol tastings to daily sports tournaments between fellow beachgoers.
Offering an all-inclusive stay and dazzling amenities, the resort prides itself on achieving an unforgettable group vacation via expert services and facilities. Although Iberostar doesn't host daily pool parties, the property provides on-site bars and nightclubs that rival some of the best Montego Bay entertainment, making group outings convenient and extraordinary.
No matter which bridesmaid or bridegroom you are, you will find comfort in the aforementioned resorts and their ability to deliver a bachelor/bachelorette party that your best friends will remember for decades to come. Whether your group prefers the tranquil beaches of Mexico or turquoise waters of the Dominican Republic, you will find an all-inclusive property that'll provide an immaculate backdrop for an unforgettable week.
Ready to learn more about destination bachelor/bachelorette parties and affordable group rates? Follow the button below to discover your group's getaway:
Have questions about planning your destination wedding? Call us now:

800-838-9313