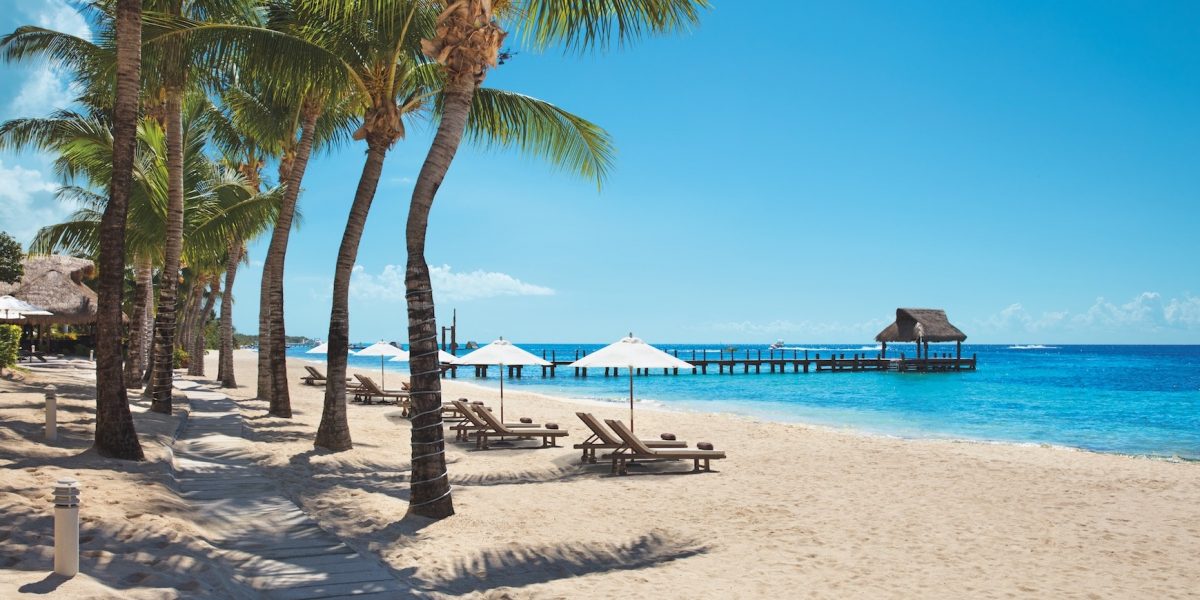 Cozumel Group Vacation Resorts
For Cozumel Travel Groups Starting at 20+ Guests!
Let's play a game. Guess the island we're describing! It's filled with golden sand beaches, gourmet eateries, and the world's second-largest coral reef. Spoiler alert: it's not a Caribbean island. Only a short ferry ride from the Yucatan Peninsula, Cozumel is an immersive tropical paradise overflowing with breathtaking seascapes, tantalizing marine ecosystems, and 5-star all-inclusive resorts. Let's take a look at a collection of Cozumel's splendid group vacation resorts: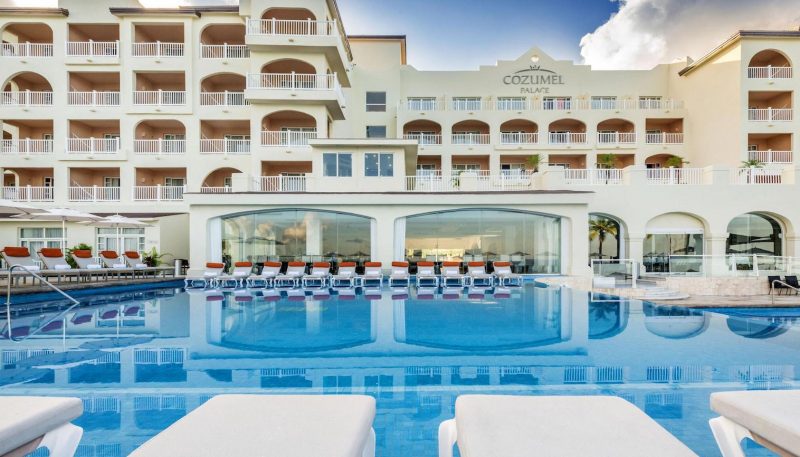 Cozumel Palace
Discover your personal tropical oasis at the Cozumel Palace, a family-friendly luxury resort delivering an extravagant island getaway at an all-inclusive rate. Leverage a wide selection of global cuisines ranging from robust Italian to delectable Pan-Asian dishes, or enjoy a scenic dip in your balcony Jacuzzi while sipping cocktails via in-suite alcohol dispensers.
Only a stone's throw from the turquoise Caribbean waters, Cozumel Palace is perfect for group vacations seeking a more active, underwater retreat. From professional scuba diving lessons to adventurous snorkeling tours, the resort beckons you to explore the second largest coral reef and its vibrant marine wildlife.
The Cozumel Palace allows you to hold your corporate retreat or business trip event in style with the Mirador Ballroom, which can support a maximum of 70 people. This exclusive meeting space offers the latest in audiovisual technology as well as exquisite ocean views. The resort also offers 6 outdoor event spaces, each with a view more beautiful than the last, perfect for group trip events such as bachelorette/bachelor parties or family reunions.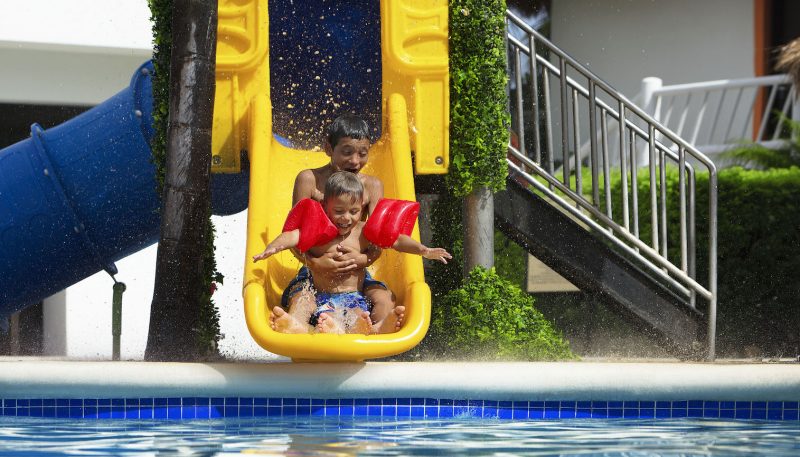 Sunscape Sabor Cozumel
It's time for the Cozumel family vacation of your dreams at Sunscape Sabor Cozumel, where water slides and immersive spa facilities form a symbiotic relationship for large group vacations of all ages. Whether you're lounging poolside under a private awning or belting your best Barbra Streisand impression at nightly karaoke sessions, Cozumel group vacations will find a paradise that fits their preferred speed.
A family-friendly sanctuary, Sunscape Sabor Cozumel offers the Explorer's Club and Core Zone, an interactive set of programs perfect for children and teens. While the adults relish in complimentary yoga classes, younger guests can hone their culinary skills via intuitive cooking lessons.
The Sunscape Sabor has a dedicated group of event planners that will ensure your event, whether it be small or large, will be absolutely perfect. The resort's venues are somewhat on the smaller side but can be decorated or set up for events focused on either business or pleasure.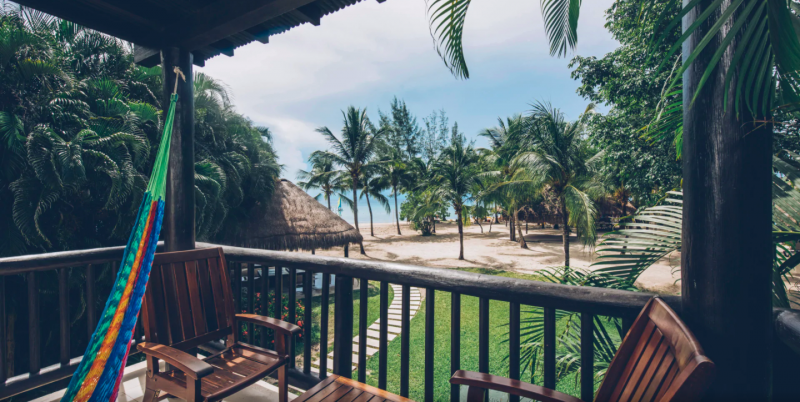 Iberostar Cozumel
Nestled perfectly on the shores of the Caribbean, Iberostar Cozumel provides a stunning selection of perks and activities that'll have every member in your group begging to stay longer. Surrounded by lush emerald foliage that practically kisses the shoreline, the property is a breathtaking crescendo of natural beauty and elegance.
Guest accommodations include charming thatched bungalows dotted throughout the area equipped with private hammocks and other atmospheric amenities. Secluded from the public, Iberostar Cozumel's private beach is home to dazzling non-motorized water sports including kayaking, windsurfing, and boogie boarding.
With meeting rooms that can support events of up to 100 people, as well as a variety of outdoor venues and restaurants, the Iberostar Cozumel is best for small to medium-sized group trip events. The resort has a focus on quality rather than quantity, with a dedicated event team and catering service.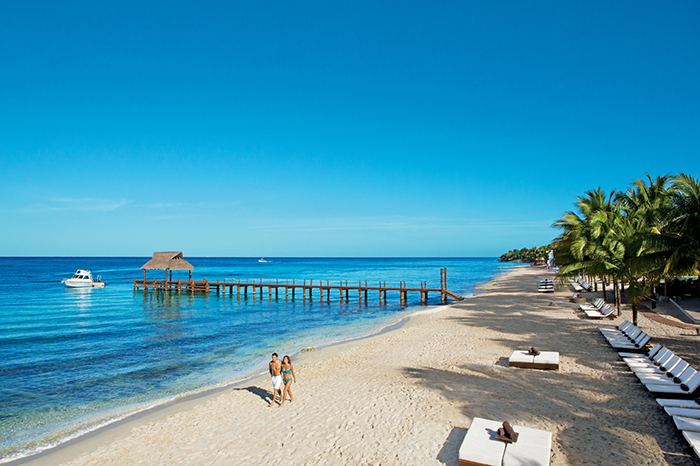 Secrets Aura Cozumel
Leave the kids at home, for the lavish halls and pool decks of Secrets Aura Cozumel beckon for adult travel groups. An adults-only haven removed from the hottest tourist zones, the oceanfront resort is a paradisal destination for older travelers desiring a truly exuberant Cozumel group vacation resort experience.
The party never stops at Secrets Aura Cozumel. From daily poolside themed soirées flowing with top-shelf liquor to afternoon rounds of golf at the nearby Cozumel Country Club, this blissful hideaway will have your daily itinerary stocked with luxurious activities. Garnering a host of other all-inclusive benefits, Cozumel group vacationers will be treated to prosperous beachside respites, where private cabanas and impeccable service are abundant.
The Secrets Aura Cozumel features a business center, two indoor meeting rooms, and one outdoor meeting room. Indoor venues are equipped with both audio and visual equipment, with the larger Udara meeting room allowing for a maximum occupancy of 40 guests. The resort is ideal for smaller group travel events as it focuses more on service and amenities rather than space.
Where there is an island, there is relaxation and tropical excellence. Cozumel represents the gold standard of this concept, offering a variety of all-inclusive stays at affordable rates and packages. While most Mexico destinations guarantee similar amenities, this sun-kissed strip of paradise distinguishes itself from the pack via visually stunning underwater excursions and a refined sense of elegance. So, what are you waiting for? Book your Cozumel group vacation now!
Curious about other exciting activities and excursions in Cozumel? Follow the button below to view group rates and other tantalizing resorts:
Have questions about planning your destination wedding? Call us now:

800-838-9313