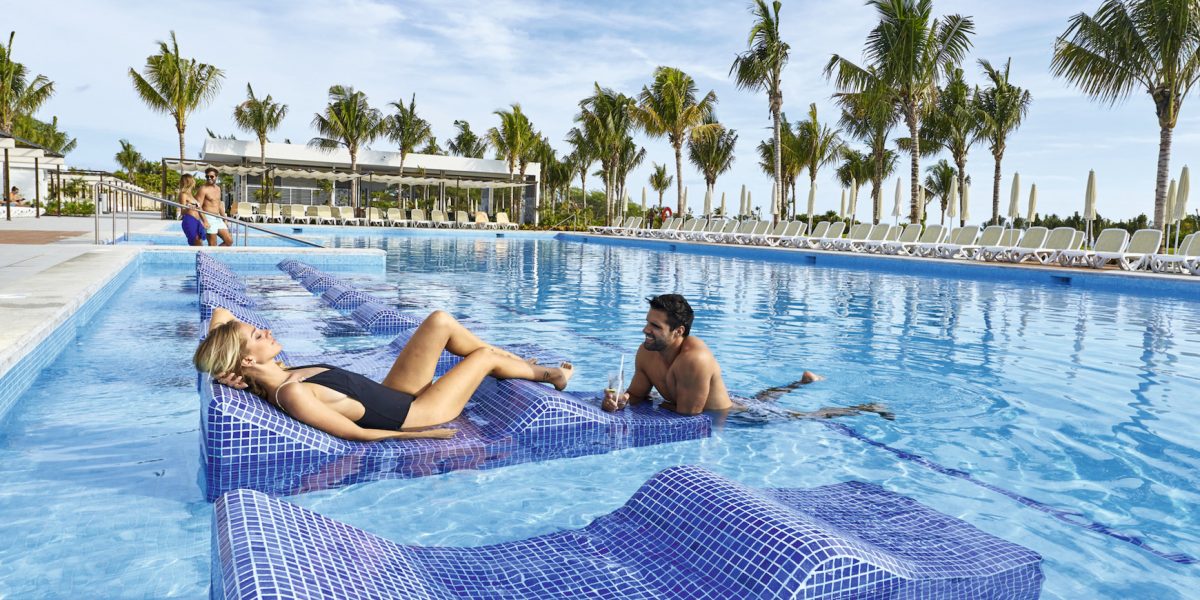 The Group Vacation Resorts of Costa Mujeres
Sophisticated Luxury Prospering Endlessly
Let's take a drive up the Yucatan Peninsula. Past the bustling metropolis of Cancun and through the lush Mexico coastline, you'll discover the pinnacle of tropical sophistication in Costa Mujeres. Featuring private sanctuaries and a variety of immersive experiences, the group vacation resorts of Costa Mujeres accentuate the region's enchanting charm. Without further ado, let's review the height of Mexico luxury at Costa Mujeres' high-end oceanfront properties: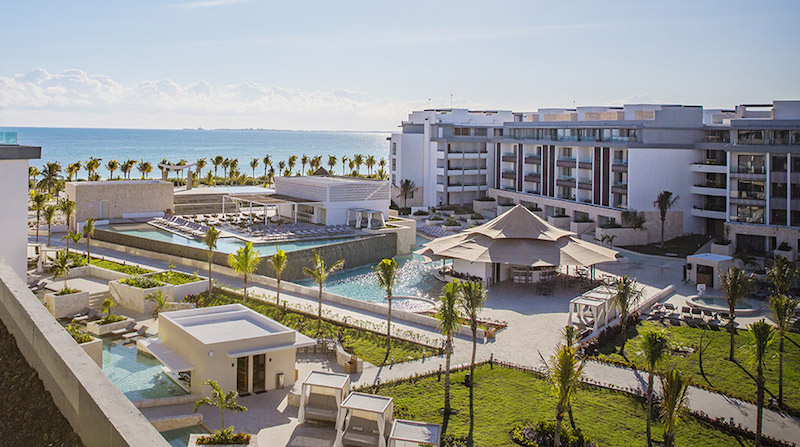 Majestic Elegance Costa Mujeres
Breathtaking contemporary resort architecture and ravishing all-inclusive amenities greet all who stay at Majestic Elegance Costa Mujeres. Located just 20 minutes from downtown Cancun, the resort features a secluded oceanfront getaway with all of the chic perks. Wade through a series of cool infinity pools with a mimosa in hand, as you gaze towards the stunning beachside cabanas that dot the golden shore. Providing both a Family and Adults-Only section, Majestic is ideal for travel groups of all ages, complete with interactive nightly local musicians and engaging children's club activities.
The Conference Centre Majestic, with more than 750m2 (8123 sq. ft.) and 3 functional rooms provides capacity for up to 700 delegates and comprises up to the minute technical equipment to effortlessly run seamless events.
RIU Palace Costa Mujeres
One of the newest RIU properties to grace the Costa Mujeres coastline, RIU Palace Costa Mujeres is a family-friendly jewel designed for optimal luxury and tropical fun. A typical day at this sun-kissed property starts with a piping cup of espresso from your in-suite Keurig, shortly followed by a gourmet omelet breakfast delivered by diligent butlers. After a hearty start to your morning, take a short stroll to the private beach, where perhaps the toughest decision of the day awaits you: scuba diving or jet skiing?
With a variety of outdoor spaces to choose from, the RIU is best suited for group trips focused on intimate events such as bachelor/bachelorette parties, or family reunions. A tiered room system means everyone can purchase a room within their budget. The resort's Isla Blanca Conference Room can support up to 45 guests and includes a projector as well as a sound system, making it ideal for meetings or corporate travel.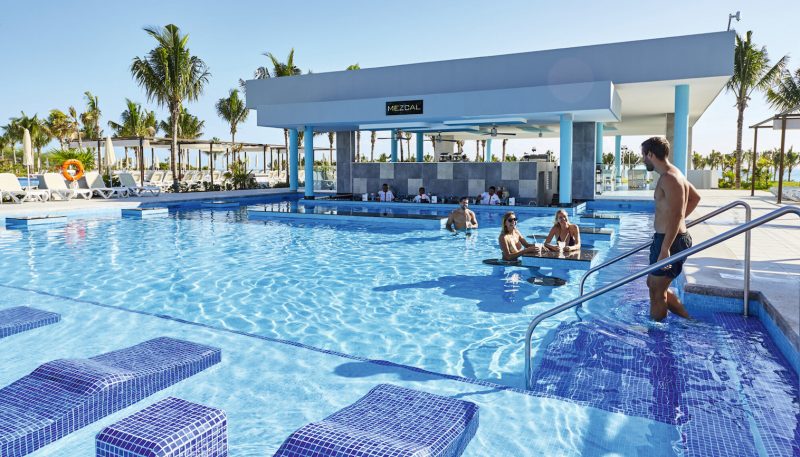 RIU Dunamar
Calling all adventurous guests! If you're seeking more lavish accommodations and amenities, take a short jaunt to the next-door RIU Dunamar. Teeming with family-friendly and adult-oriented activities, the resort caters to every desire, and rooms can be economically friendly with varied pricing based on suite styles. Older guests can dazzle their tastebuds with a selection of locally-sourced artisan tequila and mezcal tastings. Meanwhile, children and teens alike will never get bored at the on-site Riu Land and Splash Water World, where professionally taught culinary classes and sprawling waterslides beckon group vacations.
RIU Dunamar boasts the exclusive Atlantico conference room garnering state-of-the-art A/V technology and gourmet catering. Capable of accommodating 72 guests, the Atlantico is perfect for smaller, more intimate corporate meetings and celebrations.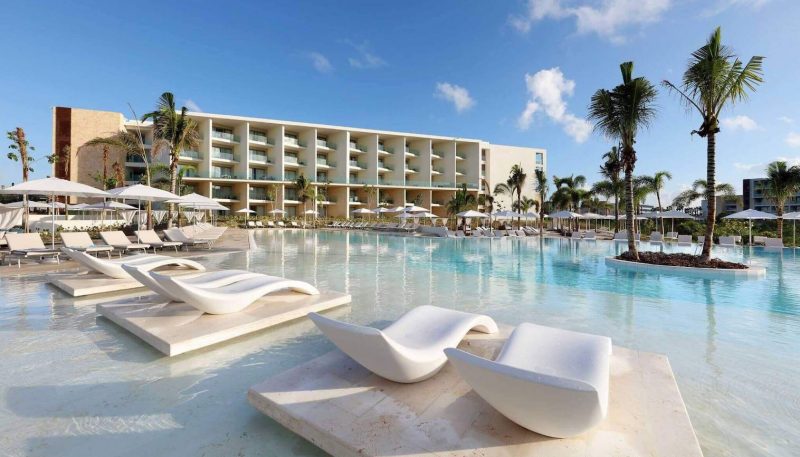 Grand Palladium Costa Mujeres
Welcome to the Grand Palladium Costa Mujeres, where impeccable service doesn't stop at your welcome glass of champagne. Bustling with authentic culinary and mixology delights, every Grand Palladium meal is prepared by world-class chefs and mixologists, guaranteeing maximum satisfaction. One of the more uniquely designed Costa Mujeres group vacation resorts, the property is connected by a series of canals, accompanied by complimentary gondolas for direct transportation from one building to another. Aside from catching a few rays on the cabana-studded beach, travelers can work on their serve and forehand returns at the Olympic-level Rafael Nadal Tennis Centre.
Grand Palladium Costa Mujeres offers a large ballroom that can accommodate up to 890 people theatre style, 5 breakout rooms, 2 meeting planner offices, and business center lounge idyllic for multi-day conferences, seminars, and luxurious events.
Nestled on one of the best stretches of Mexico real estate, the group vacation resorts of Costa Mujeres are poised to elevate your travel group's getaway. Garnering a host of elegant properties with the latest in resort architecture, such modern properties rival the Cancun Hotel Zone, distinguishing themselves from the pack. In an era of post-pandemic travel, consider Costa Mujeres for your next unforgettable group vacation.
Curious about the area's surrounding 5-star resorts? Follow the button below to view our partnered Cancun group vacation properties:
Have questions about planning your destination wedding? Call us now:

800-838-9313