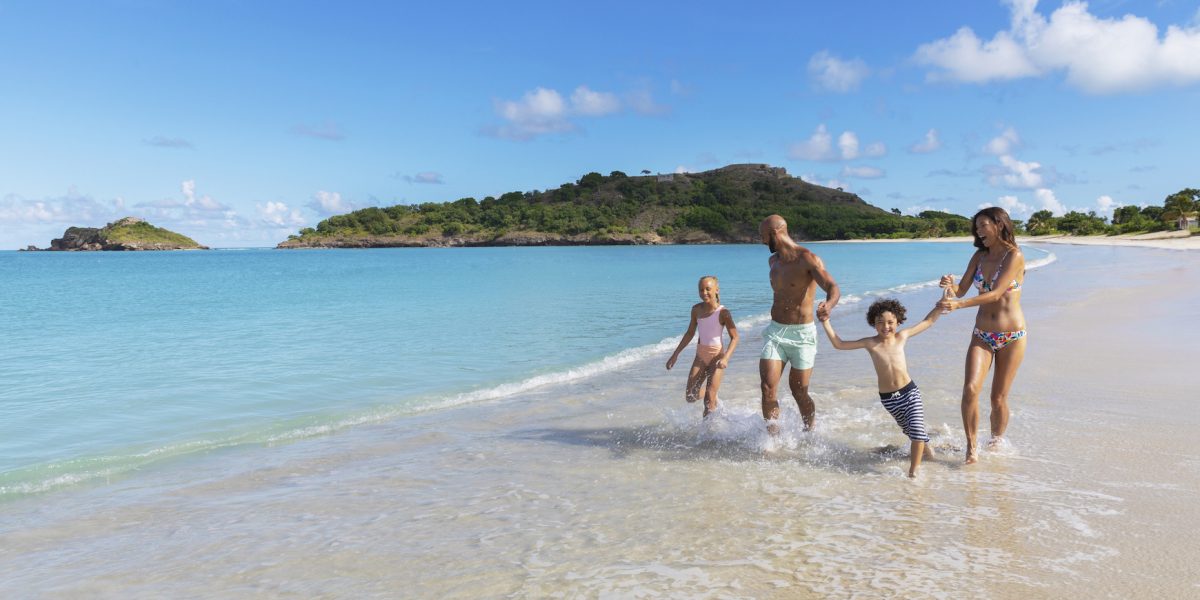 Group Vacations to the Caribbean Islands
For Caribbean Islands Groups Starting at 20+ Guests!
No region is more synonymous with beach getaways than the Caribbean Islands. For decades, group vacations to this enchanting set of petite landmasses have dominated summer vacations and, at times, off-season travel. However, such glorious escapades can only succeed if one knows where to look while planning. To ease your anxieties, consider this list of elegant partnered resorts for your next Caribbean Islands group vacation: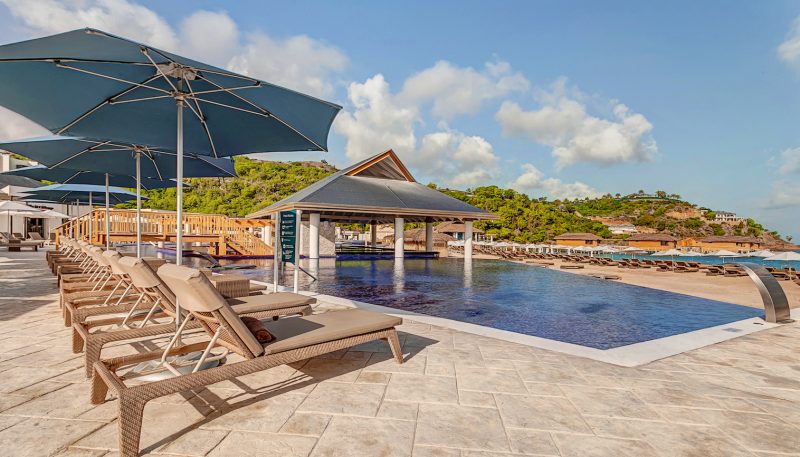 Royalton Antigua
Wake up to the soft rippling of high tide as you brew some aromatic coffee for your morning swim just steps from your memory foam mattress. You can experience this idyllic Caribbean morning and more at the stunning oasis of the Royalton Antigua. Only a few miles from the airport, the resort is primed and ready to fulfill every necessity from the minute you arrive to the end of your stay. Featuring overwater bungalow suites and a variety of activities ranging from ping pong tournaments to weightlifting classes, this island gem is perfect for group vacations of all ages.
Royalton Antigua conference space offers 1 large multi-purpose ballroom with portable walls and can accommodate anywhere between 80 and 400 guests max. The resort also features a selection of 5 state-of-the-art boardrooms. Because of its variety of venues and spaces, the property is perfect for multi-day conferences, seminars, and other lavish celebrations.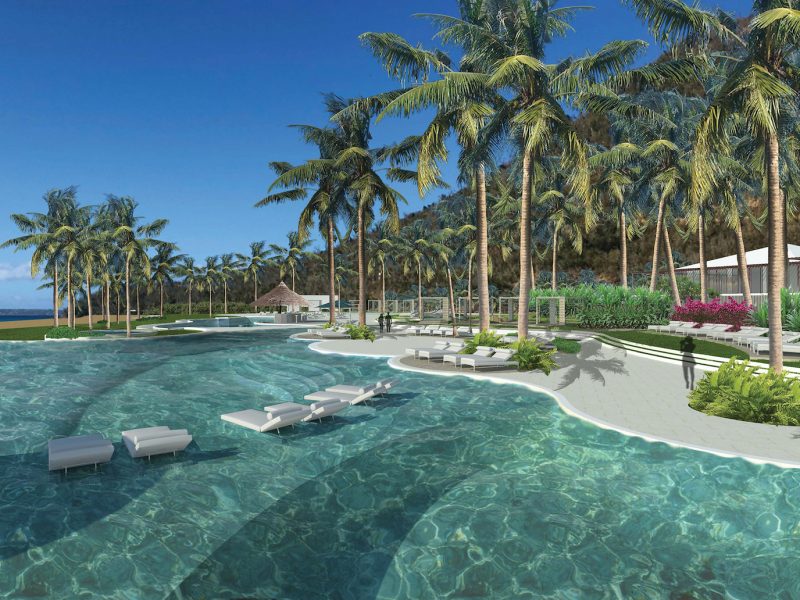 Secrets St. Martin
Located on the vibrant Dutch-French island of St. Martin, Secrets St. Martin represents the quintessential adults-only Caribbean retreat. One of the newest iterations of the award-winning Secrets chain, the complex is fitted with the latest contemporary accommodations, ensuring that you can indeed enjoy a Mai Tai with your breakfast. Only a short drive from the bustling beach town of Anse Marcel, guests can leverage world-class boutique shopping areas, a bevy of mouthwatering restaurants, and some of the finest nightlife in the Caribbean.
With a dedicated staff of event planners as well as both indoor and outdoor venues, Secrets St. Martin is equipped to handle events of any kind. With a max capacity of 250 guests, the ballroom is perfect for corporate group travel events, while the covered foyer, which can accommodate up to 100 guests, is perfect for cocktail parties or receptions.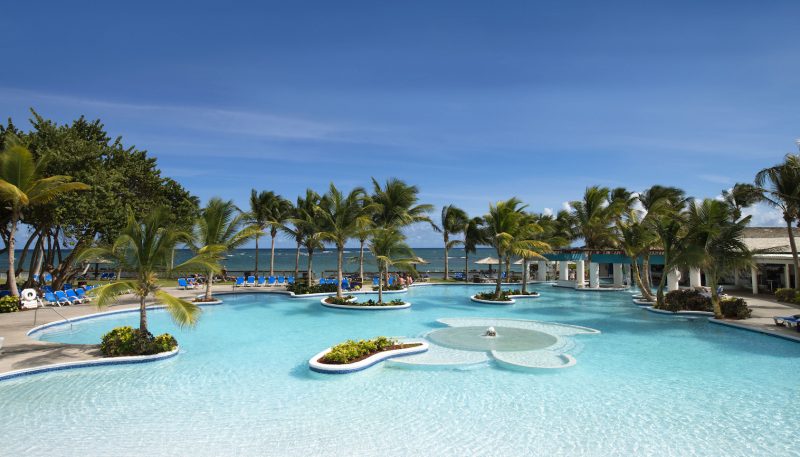 Coconut Bay Beach Resort
A hidden gem in heart of the Caribbean Islands, St. Lucia's Coconut Bay Beach Resort can deliver a wholesome sun-kissed getaway for every member of your group vacation. The property is divided into 2 tantalizing sections: Harmony and Splash. An adults-only sanctuary featuring private lounges and swim-up bars flowing with top-shelf liquors, Harmony is ideal for older guests desiring a secluded, child-free vacation. Meanwhile, younger guests can reap the benefits of a multi-acre water park, complete with snack bars and other refreshments.
The resort has 11 different indoor and outdoor event spaces that can be decorated or altered to suit any type of event, whether it be pleasure or business-related. Peter John's Lounge is the largest of all available venues and is great for large group trips as it can comfortably accommodate up to 300 guests.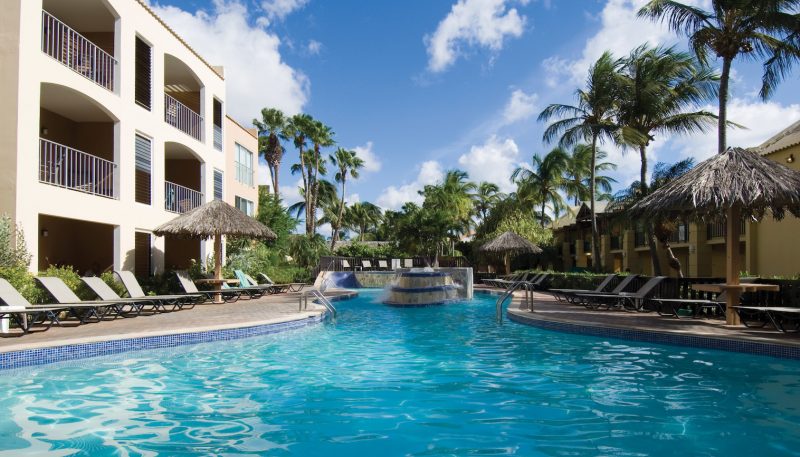 Divi Aruba
Aruba group vacations are difficult to ruin, especially while Divi Aruba exists as a solid option for large travel groups. An all-inclusive paradise, the resort's abundant poolside and in-suite amenities instantly accentuate the island's already laid back vibe. Forget about last quarter's performance reports and simply bask in the Caribbean sun as all of your problems drift away. As the afternoon approaches, savor a pre-dinner snack at one of the property's many delectable restaurants, teeming with options for guests of all ages.
Guests of the Divi Aruba have access to event spaces at the nearby Tamarijn Aruba as well as the Alhambra Casino, making the resort great for group travel events of any kind. The ballroom can comfortably accommodate 280 and is great for corporate retreats or business meetings, while the outdoor terrace can support 300 guests and offers sweeping views of the ocean.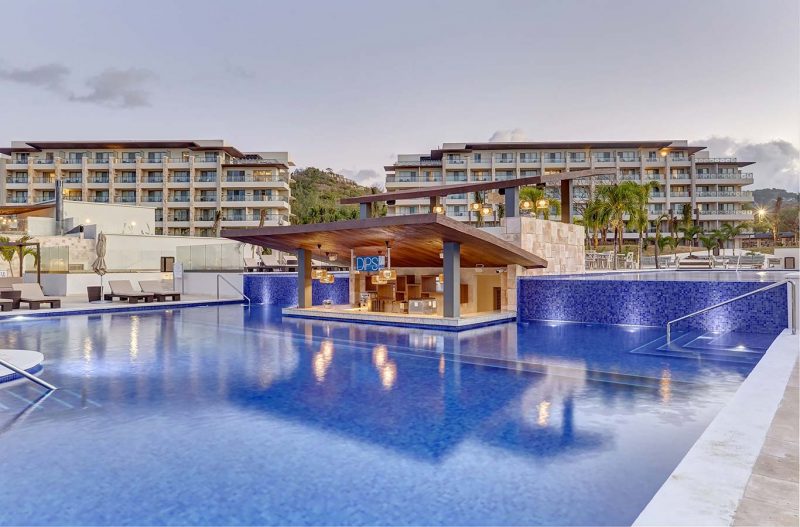 Royalton St. Lucia
Recently renovated with state-of-the-art facilities and technology, the all-inclusive Royalton St. Lucia delivers a contemporary tropical luxury stay, effortlessly fusing the surrounding flora with the cerulean sea. From the exclusive Diamond Club with elevated benefits to the Kids Adventures Program, this Caribbean gem is designed for an unforgettable paradisal retreat. With a pristine private beach garnished with plush cabanas, as well as an exciting array of delectable on and off-site gourmet eateries, the Royalton St. Lucia is optimal for every traveler no matter his or her preferred speed.
The Royalton St. Lucia has a variety of event venues that can be catered to events concerning either business or pleasure. The Ballroom is best for business-related group travel events as it can comfortably support up to 700 guests. The ballroom can be broken down into smaller sections which allow for a more intimate setting.
So, after reading about all of these wondrous Caribbean resorts, what can else have we possibly left out? Well, we haven't even cracked the surface yet. There is an additional set of islands and accompanying havens built for the express purpose of satisfying your dream group vacation. From Puerto Rico to the Bahamas, such destinations only contribute to the excellence of Caribbean hotels and their services.
Want to discover more Caribbean resorts perfect for group vacations? Follow the button below and find your island:
Have questions about planning your destination wedding? Call us now:

800-838-9313