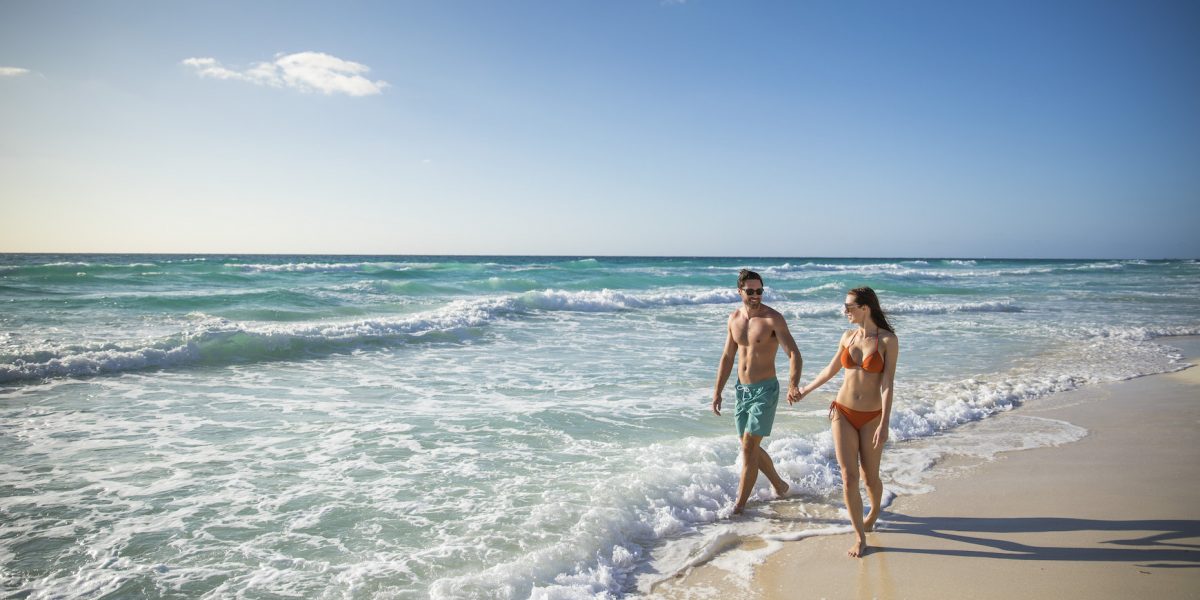 Cancun Group Travel
Cancun Group Travel is Back and More Luxurious Than Ever
Cancun and the rest of Quintana Roo reopened their borders this past week. With 5-star resorts inviting travelers back to a wondrous world of elegant oceanview suites and idyllic tropical weather, it's finally time for vacation groups everywhere to set their sights on the Mexico-Caribbean. But where should you start? Let's dive into some of the finest Cancun group travel resorts reopening for service in the next week: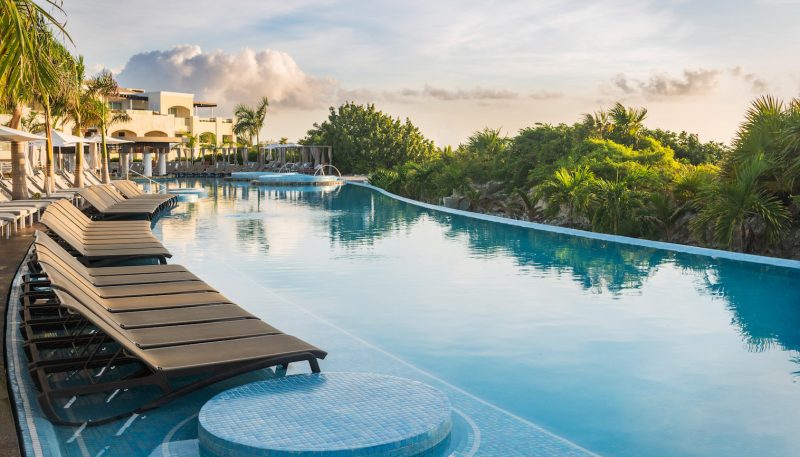 The Grand at Moon Palace Cancun
This opulent megaresort towers over the glistening Caribbean, and it features extravagant all-inclusive amenities designed to optimize your Cancun group travel retreat. The Grand at Moon Palace Cancun is the quintessential family-friendly resort, delivering an unforgettable stay via perks ranging from expansive wellness pools to Jacuzzi tub balconies. Master your bowling skills at the on-site alley or lounge endlessly in a private Bali bed overlooking secluded white sands. With a collection of contemporary spa facilities, the property welcomes guests to discover their inner Zen, complete with a glass of fine cabernet sauvignon.
The Grand at Moon Palace Cancun offers more than 80,000 square feet of flexible, functional space. Stage your presentation in a stylish theater that seats nearly 1,000 guests, or take advantage of a selection of 30 meeting rooms and spaces, complete with the industry's most innovative tech and A/V.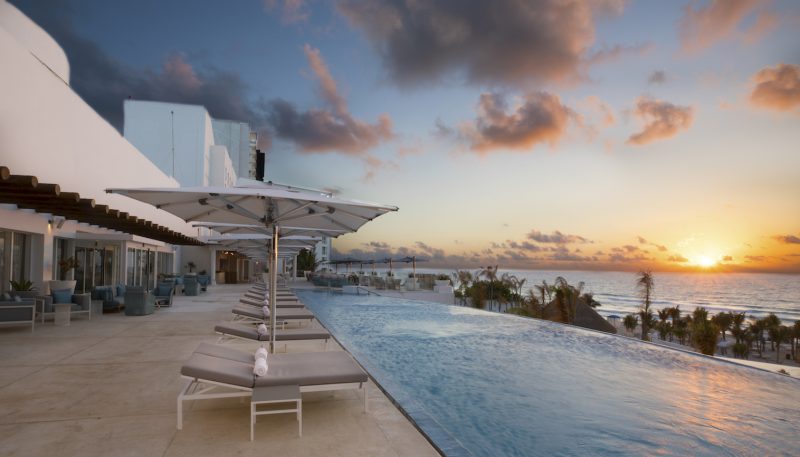 Le Blanc Cancun
An unforgettable luxury Mexico resort stay awaits at the lavish Le Blanc Cancun, the gateway to the Yucatan Peninsula. This adults-only sanctuary is devoted to fulfilling the Cancun resort experience of your dreams. Immerse yourself into a series of refreshing infinity pools, while relishing in thirst-quenching beverages crafted by professional mixologists and delivered via exceptional butler service. Towards the end of the night, come down to the property's on-site nightclub and enjoy a dazzling array of live performances ranging from professional dance troupes to local bands.
Le Blanc Cancun offers 10 meeting spaces, including a large ballroom that can host up to 480 guests theatre style and divide into 5 separate rooms, 3 outdoor terraces, and a business center lounge idyllic for multi-day conferences, seminars, and luxurious events.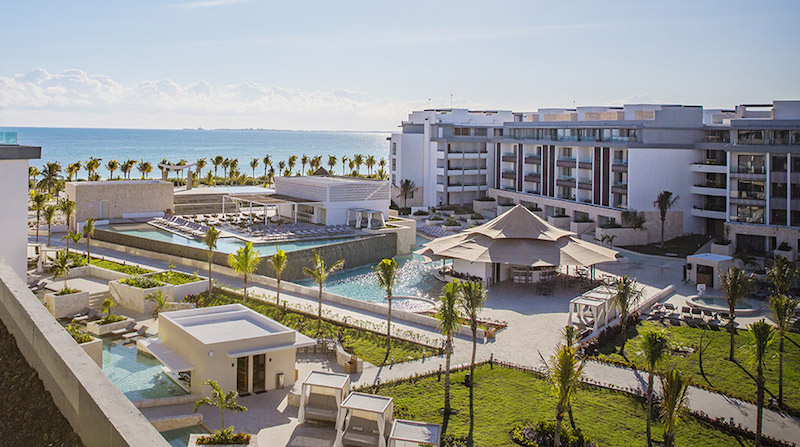 Majestic Elegance Costa Mujeres
Boasting an expansive bevy of activities and on-site excursions, Majestic Elegance Costa Mujeres will have your Cancun travel group consistently enthralled. Take an immersive tour of the spa, complete with exfoliating facials and rejuvenating wading pools. Golf enthusiasts and novices look sharp! The Puerto Cancun Golf Course is just a short drive from the property, offering perfectly manicured greens at discount prices.
The Conference Centre Majestic, with more than 750m2 (8123 sq. ft.) and 3 functional rooms provides capacity for up to 700 delegates and comprises up to the minute technical equipment to effortlessly run seamless events.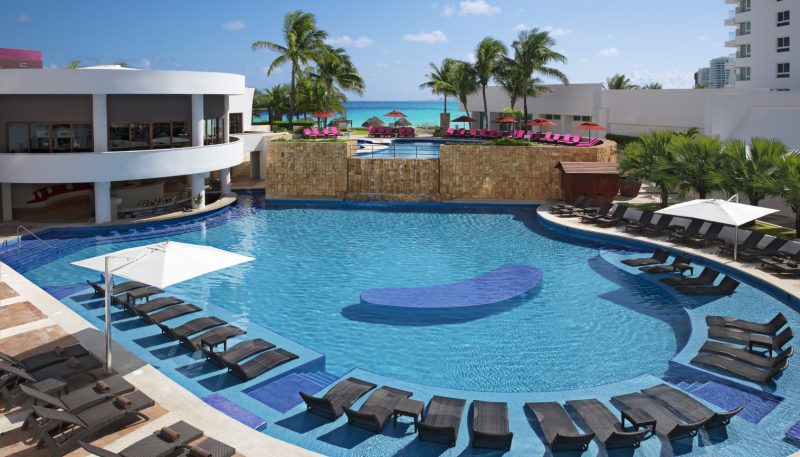 Reflect Cancun
Surrounded by glistening cerulean waters and playful fauna, Reflect Cancun provides an exciting, yet calming resort experience. From the property's expansive 14 restaurants and bars to its picturesque private beach, the resort is perfect for families and other groups seeking a dynamic vacation. Because of its proximity to downtown Cancun, guests can relish a day trip to lavish shopping areas and some of the best nightlife in Mexico. From enticing wine and tequila tastings to the fun-filled Explorer's Club for Kids, Reflect Cancun is determined to deliver an unforgettable Caribbean getaway.
Reflect Cancun offers 6 multi-purpose meeting spaces including 4 indoor rooms and 2 outdoor banquet/cocktail areas. Because of the compact size of the ballrooms and adjacent venues, the resort can accommodate a variety of smaller conferences, seminars, and other elegant celebrations.
Perhaps one of the best parts of this list? Even more luxury resorts are reopening that we haven't covered yet. Guaranteeing the same incredible service and lavish benefits, Cancun group travel resorts are reopening their doors and beckoning you to return to the land of golden beaches and crystal clear waters.
Still deciding on which Cancun resort to book? Follow the button below and discover your dream tropical paradise:
Have questions about planning your destination wedding? Call us now:

800-838-9313