Palace Resorts
Palace All-Inclusive Resorts
Palace Resorts are a fun, energetic collection of properties devoted to the enjoyment of families and friends alike. With nearly a dozen terrific locations in Mexico and the Caribbean, this brand has achieved a standard of world-class amenities and accommodations without compromising whatsoever the down to earth and dedicated attitude of their staff. With an emphasis on luxurious accommodations, fine dining, top-shelf drinks, and more, Palace resorts have established itself as a brand among the finest in the tourism industry.
Group travelers of all kinds and convictions would enjoy staying at a Palace Resort. Couples would appreciate the intimate romance options and bachelor and bachelorette parties will love the gourmet dining, drinks, and night activities, yet it's families and travelers with children who will find the ultimate group vacation experience. These establishments are chic yet playful, intimate yet jovial, and vibe with an err of appreciation throughout. For these reasons Palace Resorts just seem to reverberate everything that is whimsical and lovable about family vacations. From conversations over delicious meals, laughs out on the beach and participating in water sports, and on top, the offer of smoke-free resorts.
Palace Resorts do have properties that cater to couples only, as well as some that are more inclined towards active guests. It's safe to say Palace has any and all travel groups covered and will maintain the premier degree of service and accommodation regardless of where your group finds itself.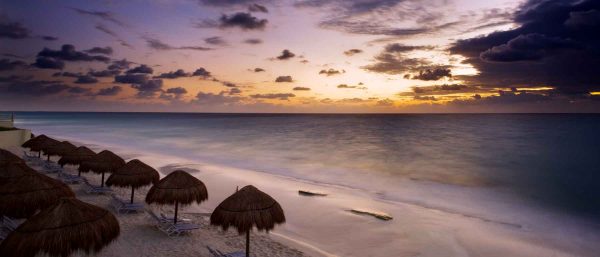 Palace Resorts resorts
Just minutes from downtown Playa del Carmen and sitting upon powdery white sands, Playacar Palace offers the Mexican Caribbean group experience of a lifetime. With packages that accommodate both the relaxed and adventurous sides in travelers in addition to delectable dishes, there is hardly a better location to get your family, friends, or even co-workers all together in the Mexican Caribbean.

Accommodations at Playacar Palace are divided into 7 different suite categories ranging from Deluxe Resort View to the Two Bedroom Presidential Suite.

Cielo Lobby Bar | Luna Lounge Bar | Cafe Del Mar Breakfast Buffet | Momonohana | Terrazza | Aquabar

There are over a dozen superb meeting and event spaces at Playacar Palace, with capacities that range from 0 to 400. Whether you're planning an intimate family reunion dinner or a corporate conference event, Playacar Palace has the resources and services to cater exactly what is necessary.

Famous for its location near the world's second largest coral reef, the Cozumel Palace is perfect for group trips in search of the perfect blend of exploration and relaxation. Whether guests choose to indulge in the resorts various restaurants or take a short trip to the nearby Playa del Carmen, they will be sure to find something to satisfy their hunger for tropical flavors and fun. With nightly shows, an extensive fitness center, and some of the best snorkeling and scuba diving in the world, the Cozumel Palace has something to keep both small and large group trips interesting.

Accommodations at the Cozumel Palace range from Ocean View Suites to Presidential Suites. Concierge Level rooms are available at an additional cost and include exclusive amenities such as an upgraded minibar, an additional bottle of premium liquor, and much more.

Turquesa | Bugambilias | Momo | Flamingos | Lobby Bar

The Cozumel Palace allows you to hold your corporate retreat or business trip event in style with the Mirador Ballroom, which can support a maximum of 70 people. This exclusive meeting space offers the latest in audiovisual technology as well as exquisite ocean views. The resort also offers 6 outdoor event spaces, each with a view more beautiful than the last, perfect for group trip events such as bachelorette/bachelor parties or family reunions.

In the heart of Cancun's famous hotel zone and on a spectacular white sand beach, Beach Palace provides guests with a family-friendly and soothing Mexican Caribbean experience. With jaw-dropping natural scenery as well as incredible accommodations and dining options, you and your fellow travelers will have everything needed to make for an unforgettable beach vacation.

Rooms at Beach Palace Cancun are broken into 6 categories: Deluxe Resort View, Superior Deluxe Lagoon View, Superior Deluxe Oceanview, Concierge Level, Family Deluxe, and Two Bedroom Presidential Suite.

Lounge Bar | Pool & Snack Bar | Sand Bar | Sky Rooftop Bars (2) | Stadium Sports Bar | Bocelli | La Terraza | Tequila | Wok

Between the Grand Beach Ballroom with a maximum capacity of 450 and 7 different versatile beachside event spaces, Beach Palace Cancun has more than enough resources to accommodate your family reunion, corporate event, or special occasion.

Surrounded by lush gardens and offering breathtaking views of the Caribbean, it comes as no surprise that the Moon Palace Jamaica is considered to be one of the most romantic resorts in the region. Guests can take in one of the many activities offered by the hotel, such as snorkeling, a wave simulator, and even swimming with dolphins. The Moon Palace Jamaica is great for group travel as it offers activities that any guest would find enjoyable.

Accommodations at the resort range from Deluxe Resort View Rooms to Two Bedroom Presidential Suites. Concierge level rooms can be purchased for an additional cost and include red wine upon arrival, a private candlelight dinner, access to the private beach lounge, and much more.

Boulangerie | La Gondola | Pier 8 | Momo | Buccaneers Reef | Loud Bar | Noir | Piano Bar

At the Moon Palace Jamaica, you have access to stylish meeting and event spaces totaling 21,000 square feet. Equipped with the latest in audio/visual equipment, these spaces are perfect for either business or pleasure. With an abundance of outdoor venues available as well, your event is sure to be a success.